General Charles Mathieu Isidore Decaen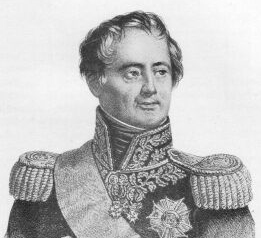 Général de division who fought at Hohenlinden and commanded Mauritius for seven years
---
Born: April 13, 1769

Place of Birth: Caen, Calvados, France

Died: July 9, 1832

Cause of Death: Illness

Place of Death: Barre, France

Arc de Triomphe: DECAEN on the west pillar
Pronunciation:
Charles-Mathieu-Isidore Decaen's first foray into the military came at age 18 when he enlisted as a naval gunner at Brest in 1787. Three years later he quit the service, and then in 1792 he joined the army as a sergeant major in the 4th Battalion of Calvados. Initially serving in the Army of the North, Decaen was promoted to sous-lieutenant in May of 1793 and then a month later he was promoted again, this time to capitaine. Yet another promotion followed in November, this time to chef de bataillon, and then in April of 1794 he distinguished himself at the combat of Saint-Michel.
In 1795 Decaen was sent to the Army of the Rhine where he was promoted to chef de brigade, served with the 5th Division, and then in November he was taken prisoner at Frankenthal. Finally exchanged in April of 1796, he was next ordered to prepare the crossing of the Rhine near Strasbourg, and after the preparations were complete he took part in the crossing. Decaen went on to fight at Appenwihr and then he received a promotion to général de brigade in early July. Two days later he fought at Rastadt, the next week he fought at Ettlingen, and then the next month he served under Desaix at the Battle Neresheim . October was another busy month for Decaen fought at Biberach and then was wounded by a fall from a horse at Emmendingen. That November he served in Ambert's division while defending Kehl and he then seized Sundheim. For his services, Decaen was awarded a saber of honor.
In February of 1798 Decaen was relieved from command for allegedly requisitioning money from Neustadt, but a month later he was reinstated. His next major command came in March of 1799 when he was given command of a brigade in Souham's division. That month he was leading his men in battle when he was wounded at Stockach by a shot to the leg, but he continued to serve until July when he was again relieved by order of the Directory. Less than a month had passed before he was reintegrated, and he spent the rest of 1799 serving in various divisions.
Decaen returned to Souham's division in April of 1800, taking command of the 1st Brigade. The next month he was promoted to général de division, and then in June he joined the Reserve Corps and fought at Hochstaedt. After the brief cessation of hostilities, in November Decaen took command of the 3rd Division under General Moreau and then he led them into action in December at the Battle of Hohenlinden. Arriving at the battlefield later than the other units, he came upon the rear half of Richepanse's division that had been separated from the front half. Decaen asked General Drouet what was happening and Drouet replied that the enemy was flanking them. Decaen simply responded, "Very well! If they are flanking us, we will flank them."1 Decaen's confidence inspired the men, and after the victory he fought later that month at Salzbourg before peace was finally achieved.
Decaen's career took a different turn after the Peace of Amiens. For a year he served as the inspector general of infantry of the 8th military division, but in 1802 he was named Captain General of the French presence in India. In 1803 he left Brest for Pondicherry, but then in August he landed at Île de France where he would remain for years as Captain General. The British, frustrated by France's base in the area, launched repeated attempts to take the island from the French, commanded by Decaen. Finally in November of 1810 Decaen was wounded during the defense and he was ultimately forced to surrender in 1810.
Decaen arrived back in France in 1811 and was made available to the Ministry of War. That October he was named commander of the Army of Catalonia under Marshal Suchet. Quickly getting to work, he won at Altafulla, Saint-Feliu and Vich. In recognition of his contributions he was named a Count of the Empire in 1813. Later that year Decaen served during the relief of Tarragona and seized Valls and Villafranca before returning to France. Once back in France, he was immediately sent to command the troops in Holland, where he concentrated the troops at Antwerp and then returned to France.
Napoleon named Decaen commander of the French army in Haute-Garonne in March of 1814. The next month Decaen signed an armistice with Lord Dalhousie, George Ramsay, after Napoleon's abdication. The returning Bourbons rewarded Decaen as a Knight of Saint Louis and gave him the Grand Cross of the Legion of Honor.
When Napoleon escaped from exile for the Hundred Days, Decaen was commander at Bordeaux and he did not immediately rally to the Emperor. But later he took Napoleon's side and was given command of a corps guarding the Eastern Pyrenees. After Napoleon's second abdication, Decaen was arrested and put on trial for having abandoned the Bourbons. He was thrown in prison but finally released in February of 1817.
Notes
Bibliography
Related Pages:
Updated February 2020
© Nathan D. Jensen