General Jean-Jacques Ambert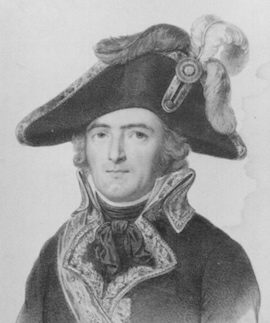 Général de division who served with the Army of the Moselle and in Guadeloupe
---
Born: September 30, 1765

Place of Birth: Saint-Céré, Lot, France

Died: November 20, 1851

Place of Death: Basse-Terre, Guadeloupe

Arc de Triomphe: AMBERT on the north pillar
Pronunciation:
Initially a volunteer in the navy in 1780, Jean-Jacques Ambert went on to serve in the American Revolutionary War shortly thereafter. He served at Tobago and Saint Lucia and after the conclusion of that war he returned to France and left military service. Almost a decade later, in 1792 Ambert was elected a lieutenant colonel of the 2nd Battalion of Volunteers of Lot. He and his men were sent to the Army of the Moselle where they served for the next few years. In September of 1793 Ambert was promoted to général de brigade and assigned to the advance guard of the army under General Vincent. Only two months later he was promoted to général de division by the representatives of the people with the army and he served at Kaiserslautern where he commanded the extreme left. After the loss of that battle Ambert was arrested but then released.
In March of 1794 General Ambert took command of a division of the right wing of the army and then in May he was beaten at Kaiserslautern again. Three months later he seized the bridge of Wasserbillig and then in October he took part in the sieges of Luxembourg. In 1795 Ambert took part in the Siege of Mainz and then he also took interim command of the Army of the Moselle after General Moreaux fell ill and died. When that army was merged with the Army of the Rhine later that year, Ambert took command of a division in the new Army of the Rhine and Moselle under General Pichegru. Ambert continued to command a division with this army, and in October of 1796 he served at Emmendingen and Schliengen. The following month he took part in the defense of Kehl.
In late 1797 Ambert joined the Army of Mainz and then in 1798 he took command of the 23rd military division in Corsica. He remained in Corsica until the end of 1800 when he was employed in the Army of Italy. Ambert next took command of French troops in the Cisalpine Republic in 1801 and then in 1802 he became available and was not readily employed. However, in 1803 General Ambert was sent to Guadeloupe as a lieutenant of the Captain General Ernouf. Ambert served in Guadeloupe for the next five years until May of 1808 when he was relieved for allegedly not fulfilling his duty and "remaining a spectator of disorder and civil war". Returning to France, Ambert asked for a trial concerning his conduct in Guadeloupe and then was unanimously acquitted.
Ambert took a new command in September of 1813 when he took command of the 31st military division at Groningen. Serving in Holland, he supported Decaen's troops and then in December he took command of the 2nd Division of General Maison's I Corps. Ambert evacuated Bréda and then in February of 1814 he was driven out of Merxheim. After Napoleon's abdication in April, the restored Bourbons named Ambert a Knight of Saint Louis but also put him on non-activity. In February of 1815 he was given command of the 9th military division and then in March he briefly served under the Duke of Angoulême as Napoleon was making his way back to Paris. After Napoleon retook power for the Hundred Days, Ambert submitted to his authority and Napoleon employed him in the defense of Paris. After Napoleon's second abdication and the second Bourbon Restoration, Ambert was put on non-activity and he retired to private life.

Bibliography
Updated July 2016
© Nathan D. Jensen