General Jean-Charles Pichegru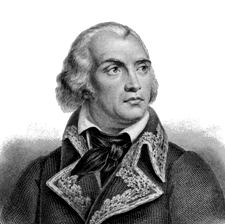 Army commander of the Revolution who was exiled and then took part in a conspiracy to assassinate Napoleon
---
Born: February 16, 1761

Place of Birth: Planches, Jura, France

Died: April 5, 1804

Cause of Death: Suicide

Place of Death: Paris, France

Arc de Triomphe: PICHEGRU on the north pillar
Pronunciation:
The son of a farmer, Jean-Charles Pichegru was educated by the monastery of Arbois and became a mathematics teacher at a school in Brienne. In 1780 he enlisted in the artillery and then participated in the American Revolutionary War. Pichegru was still serving with the army when French Revolution arrived in 1789, and in 1792 he was commissioned as a lieutenant and then elected lieutenant colonel of the 3rd Battalion of Gard. Serving with the Army of the Rhine, Pichegru was promoted to capitaine in March of 1793 and then général de brigade on August 22nd. The following day he was promoted to général de division and then that October he was named commander-in-chief of the Army of the Rhine.
Under Pichegru's leadership, the Army of the Rhine experienced some successes and his next position arrived in January of 1794 when he was named commander-in-chief of the Army of the North. As a commander, Pichegru gained a reputation for courage against the more extremist revolutionaries by protecting talented noble officers under his command and releasing captured émigrés despite the orders coming from Paris.1 That summer he took his army on the offensive, winning at Hooglede and then seizing Ypres and Anvers before defeating the Duke of York at Boxtel. In January of 1795 his cavalry forces successfully captured a Dutch fleet at Texel due to the fleet being trapped by ice. By this time Pichegru's army had successfully taken control of Belgium and Holland for the French Republic.
March of 1795 saw Pichegru leaving his command returning to Paris to command the National Guard. The next month he took command of the Army of the Rhine and Moselle and then he led his army to capture Mannheim. However, he let the Austrians retake that city, and in March of 1796 he submitted his resignation which was accepted.
In April of 1797 General Pichegru was elected a deputy of Jura to the Council of Five Hundred. By this time he had shifted to a royalist political attitude, and the next month he became president of the Council of Five Hundred. As the Directory grew alarmed by Pichegru's royalist views and growing power within the government, they called upon General Hoche and General Bonaparte to help them maintain power. Bonaparte sent General Augereau and a military force to Paris and what followed was the coup of 18 Fructidor, where Pichegru and others were arrested and deported to Guyana.
Pichegru escaped from Guyana the next year, making his way to Suriname before traveling to London. In 1799 he served on the Russian staff for the campaign in Switzerland against France before he returned to London.
After a number of years in London, in 1803 Pichegru joined Georges Cadoudal's conspiracy to assassinate Napoleon and return a Prince of the Blood to the throne of France. He traveled in secret back to Paris where he was betrayed to the police by a friend. Arrested and imprisoned at the Temple, on April 5th of 1804 he was found in his cell strangled by a handkerchief wrapped around his neck and twisted with a stick like a tourniquet. Rumors flew that Napoleon had ordered him assassinated, but an investigation found that he had committed suicide. Napoleon remarked that the idea of assassinating Pichegru was absurd and that Pichegru's disloyal friend was a disgrace to humanity.2
Notes
Bibliography
Updated February 2015
© Nathan D. Jensen