General Nicolas-Joseph Maison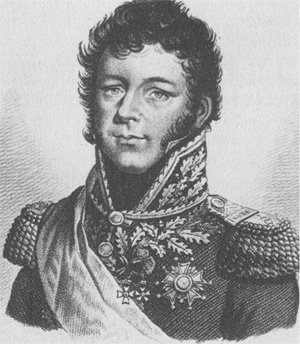 Aide-de-camp to General Bernadotte and talented commander
---
Born: December 19, 1771

Place of Birth: Epinay, Seine-Saint-Denis, France

Died: February 13, 1840

Place of Death: Paris, France

Arc de Triomphe: MAISON on the east pillar
Pronunciation:
After joining the National Guard of Epinay in 1789, Nicolas-Joseph Maison served with them until July of 1791 when he volunteered to join the 3rd Battalion of Paris. Promoted to capitaine in August of 1792, later that year he fought at Jemappes where he notably retook his battalion's flag after the enemy had seized it. In late 1793 Maison was suspended, but then in 1794 he was reinstated and he became an aide-de-camp to General Goguet. In the first half of that year he served at Guise, joined General Mireur's staff, fought at Maubeuge where he was wounded by two saber blows, and fought at Fleurus . Maison continued to fight in 1794, in July he fought at Mount Palisel near Mons where he received three saber blows and was left for dead on the field of battle. That October he fought at Cadenbach where he seized a cannon and was again wounded, this time by a shot to the left arm.
In 1795 Maison was employed near General Bernadotte and he rejoined the staff of General Mireur. The following year he joined the Army of the Rhine, and in July he fought at Limburg where he was wounded by the blow of a ball. He was promoted to chef de bataillon after that battle, and then in September he fought at Wurzburg where he was again wounded, this time while leading a battalion of grenadiers. In 1797 Maison officially became an aide-de-camp to General Bernadotte and then he served at the crossing of the Tagliamento and at Gradisca.
The next notable event in Maison's career came in 1799 when he was promoted to chef de brigade and employed in the Army of Holland. That October he fought at the Battle of Alkmaer where he was badly wounded by a shot to the chest. During the years of peace that followed, Maison served as chief of staff of the 27th military division. Finally in 1804 he went to Hanover where he became Bernadotte's aide-de-camp again.
When war broke out in 1805, Maison became the deputy chief of staff of Marshal Bernadotte's I Corps. He served throughout the campaign that year and at the Battle of Austerlitz. In February of 1806, Maison was promoted to général de brigade, and then in August he was given command of a brigade of Rivaud's division. During the campaign against Prussia, he served at Schleiz, Halle, Schwerin, and Lübeck. At the end of November Maison became Bernadotte's chief of staff. After Bernadotte was wounded in 1807, Maison continued as chief of staff for I Corps and fought at the Battle of Friedland.
1808 saw General Maison first being rewarded as a Baron of the Empire. Given command of the 1st Brigade of Lapisse's division, he went to Spain where he served at Espinosa and was wounded in the foot at Madrid. In February of 1809 Maison was sent back to France and then that summer he went to Holland. In the meantime he was rewarded as a Knight of the Order of Military Merit of Maximilien Joseph of Bavaria.
For the campaign against Russia of 1812, Maison took command of the 3rd Brigade of Legrand's division in II Corps. He fought at the Battle of Polotsk in August and then was promoted to général de division afterwards. After General Verdier was badly wounded, Maison took command of Verdier's 8th Division and then fought at the second Battle of Polotsk . During the retreat he ended up under Marshal Ney's orders and distinguished himself.
In the spring of 1813 Maison took command of the 1st Division in a corps commanded by General Lauriston. That April he fought at Mocken, Wettin, and Halle, and then in May he fought at Leipzig, Eichberg, Bautzen, Haynau where he was surprised and defeated, and then Neukirch. In August Maison became a Count of the Empire and then he fought at Lowenberg, and then in October he fought at the Battle of Leipzig . Maison finished off the year being rewarded with the Grand Cross of the Order of the Reunion and then taking command of I Corps. During the defense of France of 1814, Maison defended Courtrai.
After Napoleon's abdication, the returning Bourbons made Maison the governor of the 1st military division in Paris. They also rewarded by making him a Peer of France and giving him the Grand Cross of the Legion of Honor. When Napoleon escaped from Elba for the Hundred Days, Maison stayed loyal to the Bourbons and was forced to flee on a horse to follow Louis XVIII. Displeased, Napoleon stripped Maison of his rank, but after Napoleon's second abdication he was reinstated. Maison was one of the members of the military council of war that was supposed to try Marshal Ney, but he refused to take part and was replaced by General Gazan. Ultimately that court declared itself incompetent to judge him, forcing Ney to be tried in the Chamber of Peers.
Maison continued to have a distinguished military career, eventually becoming a Marshal of France in 1829 and Minister of War in 1835.

Bibliography
Updated December 2014
© Nathan D. Jensen