General Jacques-Alexandre-Bernard Law Lauriston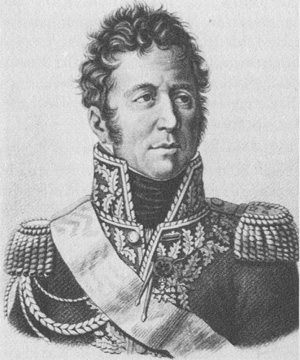 Artillery general of Scottish descent who first met Napoleon in school and later became his aide-de-camp
---
Born: February 1, 1768

Place of Birth: Pondicherry, India

Died: June 11, 1828

Cause of Death: Apoplexy

Place of Death: Paris, France

Arc de Triomphe: LAURISTON on the east pillar
Jacques-Alexander-Bernard Law Lauriston was born in India, the third son of a French general and descended from a Scottish family that had taken refuge in India. Due to his father's position, he was sent to Paris and enrolled in the École Militaire in 1784. While there, he met a fellow student, Napoleon Bonaparte, and was on friendly terms with him. Commissioned in 1785, he became a lieutenant in the 2nd Regiment of Artillery of Toul.
Once the Revolution was under way, Lauriston was promoted to captain in 1791 and then in 1792 served with the Army of the North, initially as an aide-de-camp to General Warel de Beauvoir. In 1793 he served during the siege of Maestricht, and then became aide-de-camp to General Saint-Fief. Next Captain Lauriston joined the Army of the Sambre and Meuse, and then in early 1795 received a promotion to chef de brigade of the 4th Regiment of Horse Artillery. In April of 1796, he resigned and left the army for the next four years.
Returning to the army in March of 1800, Lauriston was given his old rank of chef de brigade and a position as aide-de-camp to First Consul Bonaparte, his old acquaintance from the École Militaire. In this capacity, he served during the campaign in Italy and at the Battle of Marengo.
Next Lauriston served on the coasts, was sent to Copenhagen, and became director of the artillery at La Fère. He was chosen to carry the ratification of the peace treaty to London, where he was enthusiastically received by the British. Later in 1802, he was sent on a mission to Austria and Bavaria before being promoted to général de brigade and taking command of the artillery depot at Plaisance.
Over the next years Lauriston served in the Army of the Coasts of the Ocean before heading to Toulon in November of 1804 to join Admiral Villeneuve's squadron. After a promotion to général de division in February of 1805, he left Toulon with the squadron on the 30th of March. Once the fleet arrived in Martinique, his men helped seize the Fort Diamant. Lauriston headed back towards France with the squadron, and took part in the Battle of Cape Finistère in July.
Back on land, Lauriston returned to Paris and then joined La Grande Armée as an aide-de-camp to the Emperor. At the end of October, he was made Governor of the Braunau and the Innviertel. The next year, he led troops into Ragusa and was made Governor of Ragusa. During his time there, he defended Santa-Croce, seized an enemy column, and served at Castelnuovo. The next year he was made Governor General of Venice.
1808 saw Lauriston being rewarded as a Count of the Empire, and then being sent to Spain to take command of the artillery of the Imperial Guard. He served at Madrid, and then in February returned to Paris. Serving in the Danube campaign, Lauriston initially served as aide-de-camp to Napoleon again, before then being given command of a division from Baden. With his division he seized a column of enemy soldiers, taking six hundred prisoners, and then rejoined the Army of Italy. Next Lauriston and his division took part in the Battle of Raab , subsequently taking part in the siege. After the unification of the French armies, Lauriston took command of a devastating battery of one hundred artillery pieces at the Battle of Wagram .
The next year, Lauriston returned to Vienna to escort Marie Louise to France for her marriage to Napoleon. Then he went on a series of missions, first to Holland, then on reconnaissance to the mines of Idria, and finally inspecting the coasts of the Mediterranean. In February of 1811 he replaced Caulaincourt as ambassador to Russia. After hostilities broke out in 1812, he met the army at Smolensk in August, and then became an aide to Napoleon again. Napoleon sent Lauriston to attempt to negotiate a peace with Tsar Alexander, but the Russian soldiers would not allow him to cross their lines. Unable to speak with the tsar, Lauriston took up a command in the rear guard for the retreat.
In January of 1813, Lauriston briefly served as commander-in-chief of the Corps of Observation before then serving under Prince Eugene. That March he was given command of V Corps, and in April led them into action at Mockern, Wattin, and Halle. The combat continued into May, with V Corps serving at Luzten, attacking Leipzig, defeating York's troops at Weissig, fighting at Bautzen and Waurschen, and then being repulsed at Neukirch. In August, he and his men won at Lowenberg, and then served at Goldberg and Katzbach. In October he fought at Leipzig , and was taken prisoner on the 19th of October during the disastrous retreat. Afterwards, he was transported to Berlin where he was held until Napoleon's abdication.
Returning to France, Lauriston became an aide-de-camp to the Count of Artois, and was rewarded with a Grand Cross of the Legion of Honor. Put on non-activity for a time, he was then given command of a company of musketeers. With Napoleon's return, he followed King Louis XVIII to Béthune, then returned to Paris and retired to his house, taking no part in Napoleon's government or army. After Napoleon's second abdication, Lauriston rejoined the king at Cambrai, and was made a Peer of France. At the trial of Marshal Ney, he voted for death. In 1823 he was appointed a Marshal of France.

Bibliography
Updated prior to 2014
© Nathan D. Jensen