General Olivier Macoux Rivaud de La Raffinière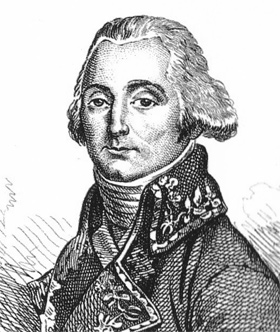 General who served at Marengo and Austerlitz
---
Born: February 10, 1766

Place of Birth: Civray, Vienne, France

Died: December 19, 1839

Place of Death: Angoulême, France

Arc de Triomphe: RIVAUD

DE LA

R

ERE

on the south pillar
Pronunciation:
Olivier Macoux Rivaud came from a distinguished family as his father was a councilor of the king and a lieutenant general of police. In August of 1792 Rivaud volunteered to join a free company of chasseurs of Blanzac. Elected as a capitaine in this unit, he fought at Jemappes a few months later. In 1793 Rivaud served at Neerwinden and he was promoted to chef de bataillon before becoming General Duquesnoy's chief of staff. That September he fought at Hondschoote , he was wounded by a shot to the left leg at Werwicq, and he received a promotion to chef de brigade. The next month Rivaud fought at Wattignies and then in November he followed Duquesnoy to the Army of the West. In February of 1794 Rivaud was named chief of staff of the Army of the Coasts of Brest and then in October he transferred to the Army of the Alps. In 1796 he began serving with the Army of Italy and he fought at Roveredo, Bassano , and Saint-Georges in September. At Saint-Georges Rivaud was wounded in the head, but he continued to serve and later he went on to fight at Arcola and Rivoli . After Rivoli, Rivaud became chief of staff to Victor's division. In 1798 he was designated for the Army of England and at the end of that year he was promoted to général de brigade.
Rivaud's next major command came in the spring of 1800 when he joined the Army of the Reserve as part of Chambarlhac's division. In this command he fought at Montebello and he was wounded by grapeshot at Marengo. In 1801 Rivaud served in the Army of Portugal until that formation was dissolved and then in 1802 he was promoted to général de division. The following year he took command of an infantry division at the camp of Nimègue before joining the Army of Hanover. When the Grande Armée marched out to confront the Third Coalition in 1805, Rivaud took command of a division of Marshal Bernadotte's I Corps. He served throughout the campaign that year and participated in the fighting at Ulm, Nordlingen, and Austerlitz. Rivaud continued to serve during the campaign of 1806 against Prussia, seeing action at Halle and Lübeck. In January of 1807 he fought at Mohrungen and then a few days later he broke his arm while falling from a horse. In February he was made governor of the Duchy of Brunswick.
At the end of 1807 General Rivaud passed to the service of Westphalia. In 1808 he became Baron of La Raffinière and then commander of the 26th military division. During the Danube campaign of 1809 Rivaud took command of the 1st Division of the Reserve Corps under Junot. He fought at Bayreuth that July where he was wounded when his leg was shattered. Briefly sent to Spain in December, he returned to France to assume command of the 12th military division. After Napoleon's abdication in 1814, the restored Bourbons made Rivaud a Knight of Saint Louis and Rivaud also became Count of La Raffinière. During the Hundred Days of 1815, Rivaud was not employed by Napoleon due to Rivaud's association with the Marquis of La Rochejacquelein. In 1816 he was a member of the council of war that tried General Travot and he voted for acquittal and then the lowest possible sentence after Travot was found guilty. He retired from the army in 1831.

Bibliography
Updated April 2023
© Nathan D. Jensen