General Jean Pierre Travot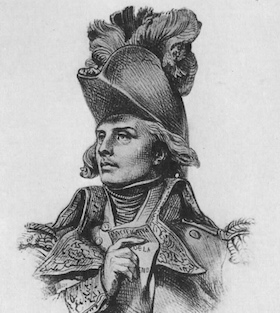 General who served frequently in the Vendée and captured Charette in 1796
---
Born: January 7, 1767

Place of Birth: Poligny, Jura, France

Died: January 7, 1836

Place of Death: Chaillot, France

Arc de Triomphe: TRAVOT on the west pillar
After enlisting in an infantry regiment in 1786, Jean-Pierre Travot left the army in May of 1789. Two years later he was elected a lieutenant colonel in the 2nd Battalion of Jura and in 1792 he and his men were assigned to the Army of the Rhine. Travot was then sent to the Army of the Coasts of Brest in August of 1793 and later the Army of the West to serve against the rebels in the Vendée. Making a name for himself, Travot was promoted to chef de brigade in March of 1794. Two years later he was employed in the Army of the Coasts of the Ocean and in January of 1795 he defeated the rebel leader Charette at Bruffière. When Charette was found to be deceiving Hoche in negotiations and Charette then disappeared, Travot rose to further distinction with his energetic drive to capture or kill Charette.1 On March 13, 1796 Travot received a promotion to général de brigade and only ten days later he captured Charette who was then executed within a week. Once the region was pacified, Travot was appointed commander of the Vendée département in the 12th military division where he would remain for a number of years.
In 1802 General Travot finally received a new assignment when he was employed in the 27th military division. The following year he was named commander of the département of Sésia in Italy and in 1804 he became a Commander of the Legion of Honor. Travot was promoted to général de division in February of 1805 and the following month he was appointed commander of the 12th military division at Nantes. In 1807 he took a command in the Vendée again.
Travot temporarily took up a more active command in 1808 when he took command of the 3rd Division under General Junot in what would become the Army of Portugal. However, that November he returned to France to command the 13th military division at Rennes and then a few months into 1810 he took command of the 10th military division at Toulouse. At the end of 1810 Travot also took command of a reserve division to support the army in Spain. In 1813 he was named a Baron of the Empire and in 1814 he commanded the reserve of the Army of the South under Marshal Soult. That April he fought at Toulouse before word of Napoleon's abdication brought an end to the hostilities.
The restored Bourbons named Travot commander of the 12th military division at Nantes again and a Knight of Saint Louis. When Napoleon escaped from exile in 1815 to resume power for the Hundred Days, Travot supported him and in May he was made available to General Delaborde. Travot next took a command in the Army of the Loire under General Lamarque and served against the royalists in the Vendée once again, defeating them at Aizenay and Saint-Gilles. Napoleon named Travot a Peer of France and Travot fought one more battle at Roche-Servière on June 20, 1815.
After Napoleon's second abdication, Travot was retired from the army and he eventually resided in Lorient. In January of 1816 he was arrested and secretly transferred to Rennes where he was put on trial by a council of war. That March the council of war issued its judgment and Travot was condemned to die, but a week later his sentence was commuted to twenty years in prison. Travot was transferred to the Fort of Ham but the imprisonment would take its toll on him. The next year he was transferred to a mental asylum near Paris, having lost his sanity. In 1819 the Duke of Angoulême pardoned Travot, but Travot remained in a mental asylum until his death in 1836.
Notes
Bibliography
External Links:
Updated May 2019
© Nathan D. Jensen