General Pascal-Antoine Fiorella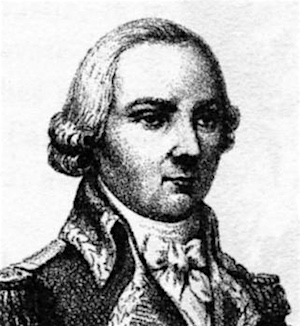 Cousin to Napoleon and général de division who served in Italy
---
Born: February 7, 1752

Place of Birth: Ajaccio, Corsica, France

Died: March 3, 1818

Place of Death: Ajaccio, France

Arc de Triomphe: FIORELLA on the south pillar
Pronunciation:
Pascal-Antoine Fiorella was a cousin of Napoleon Bonaparte who served in Italy for much of his career. After serving in various Corsican units before the Revolution, Fiorella became a lieutenant colonel of the 4th Battalion of Volunteers of Isère in November of 1791. Over the next few years he served in the Army of the Alps, mostly at the pass of Madeleine.
In 1794 Fiorella was promoted to chef de brigade and he joined the Army of Italy, where he would serve for the next five years. That April he took part under Masséna's expedition to Saorgio and was wounded in the fighting at the Ardente pass. In September he was promoted to général de brigade, took command of the reserve under Masséna, and fought at Cairo. The next year he took command of a brigade in Sérurier's division.
In early April of 1796 Fiorella joined Berthier's staff and then fought at Mondovi before returning to command a brigade in Sérurier's division. Two months later he was serving under Vaubois and took part in the expedition to Livorno before once again returning to Sérurier's division. Sérurier fell ill before the Battle of Castiglione and so Fiorella took command of the division and led them admirably throughout the battle.1 Less than a week later Fiorella also fell ill, and Sahuguet replaced him while he recovered.
A month later, General Fiorella was back in action serving in Vaubois' division. As the French army attempted to win the Battle of Arcola , Vaubois' division was engaged elsewhere and Fiorella was captured during the fierce fighting. Within a few months he was released on a prisoner exchange and by March of 1797 he was serving in Bernadotte's division. Over most of the summer of that year he commanded Sérurier's division while Sérurier was in Paris.
November of 1797 saw Fiorella named a général de division in the service of the Cisalpine Republic, where he commanded all the French and Italian troops in Lombardy. In 1799 he took command of Turin and the city was besieged by Austrian forces. Within six weeks Fiorella was forced to surrender the city and he was taken prisoner and transported to Germany.
In March of 1801 Fiorella rejoined the French army as a général de brigade, fulfilling administrative posts until September of 1802 when he traveled to the Italian Republic to become Commander of the Interior and the infantry. In April of 1804 he was promoted to lieutenant-general in the Italian Republic and at the end of year he was made a Commander of the Legion of Honor. After war broke out in 1805, Fiorella took command of the 2nd Division of the corps under Eugene de Beauharnais that was blockaded Venice.
Fiorella continued to serve in Italy and later during his career he was rewarded by being made a Commander of the Iron Crown. In 1810 he became a senator of Italy, and during the Hundred Days he commanded the arrondisements of Ajaccio and Sartène in Corsica.
Notes
Bibliography
Updated March 2014
© Nathan D. Jensen