General Charles-Henri Vaubois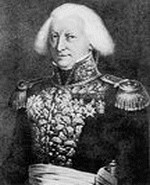 Général de division who commanded Malta from 1798 to 1800
---
Born: October 1, 1748

Place of Birth: Clairvaux, Aube, France

Died: November 5, 1839

Place of Death: Beauvais, France

Arc de Triomphe: VAUBOIS on the south pillar
A soldier long before the Revolution, Charles-Henri Vaubois joined the artillery and then was commissioned as a lieutenant in 1770. In 1784 he was promoted to capitaine and in 1787 he was sent to Strasbourg where he remained until the Revolution intervened in his career. The year 1791 saw Vaubois being assigned to the 4th Foot Artillery and becoming a Knight of Saint Louis, but he left this position to became a lieutenant colonel of the 3rd Battalion of Volunteers of Drôme. At the start of 1793 Vaubois joined the Army of the Alps and that August he was promoted to général de brigade by the representatives of the people. Later that year he served at the siege of Lyon.
In May of 1796 Vaubois was promoted to général de division and given command of the 1st Division of the Army of the Alps. Transferred to the Army of Italy, he served under General Bonaparte and took part in the siege of Mantua. That June he seized Livorno, and then in August he was ordered to take command of Sauret's division. Leading this division, Vaubois fought at Roveredo and Lavis in September, and then was beaten at Calliano, Corona, and Rivoli in November. Afterwards, he was sent back to Livorno to command there.
Vaubois was next sent to Corsica to command the 23rd military division. In 1798 he was replaced by Ambert but he remained in Corsica and joined up with General Bonaparte who was sailing for Egypt. When the French force stopped at Malta, Vaubois led the troops in taking the old city. Afterwards, Bonaparte left Vaubois in charge of Malta where he would command for the next few years. After being blockaded by the English for a time and being unable to break out, he finally surrendered the island in September of 1800.
General Vaubois returned to France and retired from the military but then became a Senator. He continued to receive rewards for his service, being named a Grand Officer of the Legion of Honor in 1804 and a Count of the Empire in 1808. In 1809 he briefly commanded a division of the National Guard before quitting that command to return to the Senate. After Napoleon's abdication, the restored Bourbons named Vaubois a Peer of France. During the Hundred Days, Vaubois stayed away from Paris and politics and did not participate. Afterwards, Vaubois took part in the trial of Marshal Ney where he voted for death.1
Notes
Bibliography
Updated December 2014
© Nathan D. Jensen