Admiral Jean-Mathieu-Adrien Lhermitte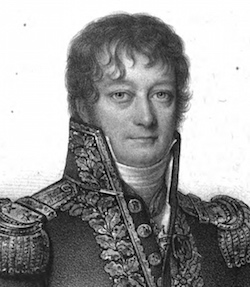 Naval officer who led a successful expedition raiding British merchant ships in 1805 and 1806
---
Born: September 29, 1766

Place of Birth: Coutances, Manche, France

Died: August 28, 1826

Place of Death: Plessis-Picquet, France

Arc de Triomphe: LHERMITTE on the west pillar
Pronunciation:
Volunteering to join the navy in 1780, Jean-Mathieu-Adrien Lhermitte first took part in an expedition to the Chausey islands. Later that year he joined the crew of the ship Northumberland that formed part of the Count de Grasse's fleet that served in the American Revolutionary War. In March of 1782 Lhermitte transferred to another ship and he continued to serve sailing between the Americas and France. He next joined the merchant ship Modeste in 1784 and served on it until 1787. That year Lhermitte sailed to Newfoundland and he received a promotion to sous-lieutenant of vessel. He continued to serve between the United States, Newfoundland, and France as the Revolution began to gain momentum back in France. In 1791 he sailed to Saint-Domingue and the following year he returned to France.
Lhermitte served on a variety of ships in 1792 and 1793 and in 1793 he was promoted to lieutenant of vessel and given command of the frigate Tamise. In 1794 he served at the Battle of June 1st, 1794 under Admiral Villaret-Joyeuse and afterwards he took command of the frigate Seine. For the next two years Lhermitte served on the coasts of Ireland and Norway and then in 1796 he took command of the frigate Vertu and was promoted to captain of vessel. He next joined Admiral Sercey's squadron in the Indian Ocean. During his time there he served at Île de France, throughout the Indies, and at the Sunda Islands. In January of 1798 Lhermitte took command of the frigate Preneuse and then that March he sailed to the coast of Malabar. That April he seized two British merchant ships. Next he rejoined Sercey at Java in June before returning to Île de France. In September of 1799 Lhermitte fought at Delagoa Bay and then in December he attempted to defend Île de France on the bank of Aiguilles but he was taken prisoner by the British. The following day he was released on parole and he disembarked at Port-Louis.
Lhermitte returned to France and in December of 1800 he was officially exchanged and removed from parole. Over the next few years he commanded ships based at Lorient. In 1805 Lhermitte left France with a squadron and sailed for the coasts of Africa before turning to Brazil and eventually the Antilles. In the course of his voyage he captured 50 British ships before he returned to Brest in October of 1806. Back in France Lhermitte was named a colonel of a naval regiment and then promoted to rear admiral. In 1810 he was named a Baron of the Empire and then in 1811 he took up the post of maritime prefect at Toulon. Lhermitte remained in this post until after Napoleon's abdication in 1814 and the restored Bourbons then ordered him to take the ship Ville-de-Marseille to retrieve the Duchess of Orléans from Messina. The Bourbons also named Lhermitte a Knight of Saint Louis and Commander of the Legion of Honor. In December of 1815 he retired from the navy as a vice admiral.

Bibliography
Updated January 2017
© Nathan D. Jensen