Admiral Pierre Martin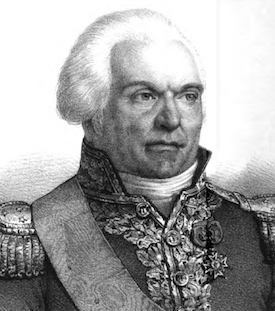 Admiral who commanded the French naval forces in the Mediterranean from 1794 to 1797
---
Born: January 29, 1752

Place of Birth: Louisbourg, Canada

Died: November 1, 1820

Place of Death: Rochefort, France

Arc de Triomphe: MARTIN on the west pillar
Pronunciation:
A French Canadian by birth, in 1764 at age twelve Pierre Martin was sent to France to study. However, during his voyage across the Atlantic Ocean, he enjoyed his time at sea so much that he decided to remain on the same ship that he had embarked on as just a passenger. Martin apprenticed as a pilot aboard the vessel, and then in 1769 he officially joined the French navy. Martin served on a variety of ships over the following years and he lost his left eye during his service in 1775.
In 1778 Martin joined the crew of Magnifique as a master pilot and served with this ship during the American Revolutionary War. He took part in the Battle of Ushant and next his ship served as part of Admiral d'Estaing's squadron. During the war Martin went on to fight at Grenada, fight and be wounded at Dominique, and then fight at Savannah and Martinique. After the conclusion of that war, Martin served off the coasts of France, at French colonies, and finally he was sent to Senegal in command of the corvette Cousine. In March of 1788 he was promoted to sous-lieutenant of vessel.
As the Revolution was heating up in 1789, Martin sailed back to France to repair his corvette. After completing repairs at Rochefort, he covered the coast of Africa until 1791 and that year he was also made a Knight of Saint Louis. Martin received a promotion to lieutenant of vessel in 1792 and he was sent on a mission to Senegal, and then in early 1793 he took command of a group of three ships to patrol the coasts of France. During this time he captured a corsair and he was then promoted to captain of vessel. In November of 1793 Martin was promoted to rear admiral and he briefly served at Brest before being named commander at Toulon of the French naval forces in the Mediterranean. While serving in the Mediterranean in 1794, he captured the Neapolitan frigate Alceste and two British corvettes, HMS Expedition and HMS Scott. Now chased by the British fleet, Martin sailed for Golfe-Juan for safety and then returned to Toulon.
Admiral Martin left Toulon again in March of 1795 to carry troops to Corsica. While on this voyage, his squadron successfully captured the British vessel HMS Berwick. However, the British fleet soon learned of this and attacked the French fleet a week later, taking two French ships. Admiral Martin then returned to Toulon, but in July he set out again and engaged the British fleet of Admiral Hotham near the isles of Hyères. During the battle, the French ship Alcide caught on fire and exploded, and afterwards Martin ordered his ships to fall back and return to Toulon.
In March of 1796 Admiral Martin received a promotion to vice admiral. The next year he turned over command of the Mediterranean forces to Admiral Brueys, and he then took command at Rochefort. Martin remained at Rochefort, receiving an appointment as maritime prefect in 1801 and then being honored as a Grand Officer of the Legion of Honor in 1804. In 1809 he was implicated in the disaster at the isle of Aix, but he was cleared of wrongdoing and recognized for having made all efforts to save Admiral Allemand's fleet. Martin was named a Count of the Empire in 1810 but he was replaced at Rochefort by Admiral Truguet. He retired in 1814 but when Napoleon resumed power for the Hundred Days in 1815, Martin filled the position of maritime prefect at Rochefort again. After Napoleon's second abdication, Admiral Martin was forced to retire.

Bibliography
Updated January 2017
© Nathan D. Jensen