Colonel André Charles Merda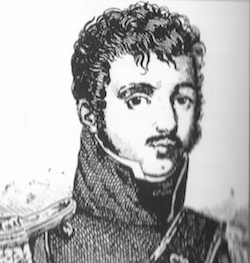 Gendarme who shot Maximilien Robespierre and rose to become a colonel before being mortally wounded before Borodino
---
Born: January 10, 1773

Place of Birth: Paris, Paris, France

Died: September 8, 1812

Cause of Death: Mortally wounded

Place of Death: Kolosky, Russia


The son of a silk worker, André Charles Merda, also known as Méda, joined the National Guard of Paris in September of 1789. Three years later in 1792 he served with an infantry regiment before being incorporated into the gendarmerie. In 1794 when the Thermidorian Reaction against the executions led by the Committee of Public Safety occurred, Merda was one of the gendarmes sent to arrest Maximilien Robespierre. As Robespierre resisted, Merda shot him in the jaw with his pistol. For this action, he was promoted to sous-lieutenant and appointed to the 5th Chasseurs à Cheval by a decree of the National Convention.
Merda was sent to the Army of the North to serve, and in 1796 he joined the Army of the Sambre and Meuse. Two years later he was promoted to capitaine and served with the 12th Chasseurs à Cheval in the Army of Switzerland and then later the Army of the Danube. Captain Merda fought at Bâle in February of 1800 where he was wounded by multiple saber blows. Next he and his regiment became part of the Army of the Reserve, and in this capacity he distinguished himself at Marengo.
Merda was next sent to the staff of the Army of the Rhine, and in April of 1801 he received a promotion to chef d'escadrons and joined the 7th Hussars. Merda took part in the campaigns of the Grande Armée from 1805 to 1807, eventually becoming an Officer of the Legion of Honor and colonel of the 1st Chasseurs à Cheval in May of 1807. Another award followed in 1808 when he was made a Baron of the Empire.
Merda led the 1st Chasseurs à Cheval into action in the Danube campaign of 1809. Three years later he was still commanding this regiment for the campaign against Russia. During that campaign, Merda and his men were members of the advance guard, and in a skirmish on September 5th, 1812 he was hit by a ball to the stomach. Merda was transported to the Kolosky abbey where he died a few days later.

Bibliography
Updated May 2014
© Nathan D. Jensen