Captain Claude Charles Marie Ducampe de Rosamel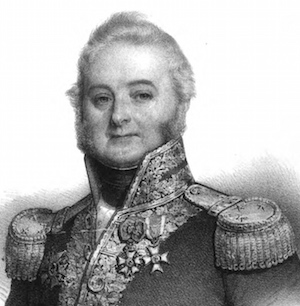 Captain who served in the Mediterranean and Adriatic until he was captured in 1811
---
Born: June 25, 1774

Place of Birth: Frencq, Pas-de-Calais, France

Died: March 27, 1848

Place of Death: Paris, France

Arc de Triomphe: ROSAMEL on the east pillar
Pronunciation:
The son of the Seigneur of Rosamel who was also a maréchal de camp in the army, Claude Charles Marie Ducampe de Rosamel embarked at sea in 1787 where he quickly became a pilot of coastal shipping. In 1792 he joined the navy and he took part in two voyages to Saint-Domingue. In 1794 Rosamel participated in the combat of the 1st of June while he was serving aboard the Convention. Two years later in December of 1796 he served on the Constitution and took part in the failed expedition to Ireland. In April of 1797 Rosamel was promoted to ensign of vessel and in 1798 he took part in the expedition to Ireland aboard the flagship Hoche. When that ship was captured by the British, he was taken prisoner.
Back with the French navy in 1801, Rosamel participated in a voyage to the Antilles in 1801 and in 1802 he he was promoted to lieutenant of vessel. In 1803 he commanded the Diligente and he served in Admiral Bruix's staff in the flotilla of Boulogne. In October of 1804 Rosamel was given command of the Tactique and he served in the Mediterranean until September of 1807. In July of 1808 he was promoted to captain of frigate and he took command of the frigate Pomone. Rosamel was serving in the Adriatic Sea in November of 1811 when his ship and two other French ships encountered a British squadron. The ensuing battle near Pelagosa, between Corfu and Trieste, resulted in Rosamel being wounded and forced to surrender. He was held as a prisoner by the British until after the Bourbon Restoration in 1814. Upon his return to France, he was promoted to captain of vessel.
Rosamel's rank was confirmed during the Hundred Days when Napoleon resumed power in 1815. In 1823 he took part in the expedition to Spain and he was promoted to rear admiral. In 1830 Rosamel served as second in command to Admiral Duperré for the expedition to Algeria and in 1831 he was promoted to vice admiral. In 1836 he was named Minister of Marine and in this position he organized the expeditions to Mexico and Río de la Plata. Rosamel also supported the scientific naval expeditions of Dumont d'Urville, Dupetit-Thouars, and Laplace. In 1839 he was replaced in his post and in 1840 he joined the commission to determine the names on the Arc de Triomphe.

Bibliography
Updated September 2018
© Nathan D. Jensen