General Nicolas Marie Songis des Courbons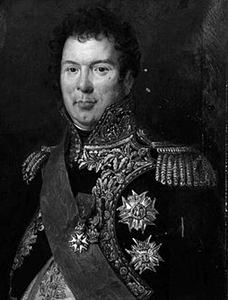 Général de division and commander of the artillery of the Grande Armée
---
Born: April 23, 1761

Place of Birth: Troyes, Aube, France

Died: December 27, 1810

Place of Death: Paris, France

Arc de Triomphe: SONGIS on the east pillar
Pronunciation:
A career artillery officer, Nicolas-Marie Songis des Courbons joined the Royal Artillery Corps in 1779 and then was commissioned as a lieutenant in the artillery regiment of Grenoble in 1780. By the time of the Revolution starting in 1789 he had risen to the rank of capitaine. In 1792 Songis began serving with the Army of the North and then at the end of 1793 he was promoted to chef de bataillon. The next year he joined the Army of Italy, and then in 1795 he joined the 8th Foot Artillery. Called back to Italy in 1796, Songis served at Salo, Lonato , and Castiglione . A promotion to chef de brigade of the 1st Horse Artillery followed shortly thereafter.
Songis's next major command came in 1798 when he joined the expedition to Egypt. He was named commander of the artillery park of the Army of the Orient and served in Syria at Jaffa before distinguishing himself at the Siege of Acre. Towards the end of that siege, General Bonaparte promoted Songis to général de brigade. After General Dommartin's death, Songis was named the commander-in-chief of the artillery of the Army of the Orient. Staying in Egypt, in the year 1800 he was promoted to général de division and then served at Heliopolis. When the British laid siege to Alexandria in 1801, Songis participated in the defense of that city until the French surrendered and then he returned to France.
Once back in France, Songis took a new position as commander of the Artillery of the Consular Guard. In 1803 he took over command of the artillery of the camp of Compiègne, and then in 1805 he was named inspector general of artillery and given the Grand Eagle of the Legion of Honor. When war broke out that year, Songis was named commander-in-chief of the artillery of the Grande Armée. The following year he received a new reward, being named a Knight of the Iron Crown.
In 1809 when the Austrians attacked, Songis was serving as the commander-in-chief of the artillery of the Army of Germany. That April he was named a Count of the Empire, and while participating in the campaign he fell quite ill. On June 15th he was authorized to return to France to recover and replaced by Lariboisière. Songis returned to Paris but never fully recovered, dying in 1810.

Bibliography
Related Pages:
Updated April 2019
© Nathan D. Jensen