General Paul-Charles-François-Adrien-Henri Dieudonné Thiébault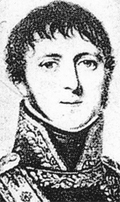 Général de division who served notably at Austerlitz and is known for his disparaging memoirs
---
Born: December 14, 1769

Place of Birth: Berlin, Prussia

Died: October 14, 1846

Place of Death: Paris, France

Arc de Triomphe: THIEBAULT on the west pillar
Paul Thiébault first volunteered in August of 1792 when he joined the Battalion of Butte des Moulins. That November he left the army due to poor health, but in February he returned as a lieutenant in the 1st Regiment of Tournai. A month later Thiébault received a promotion to capitaine and became an aide-de-camp to Valence. Not long after, in April of 1793 he was arrested for suspicion of being an accomplice of Dumouriez and thrown in prison. Late that May Thiébault was released and before long he took a position in the 24th Battalion of Light Infantry. Sent to the Armies of the Rhine and then the North, in 1794 he served during the recovery of Quesnoy and then joined the tirailleurs and took part in the siege of Bréda.
In 1795 Captain Thiébault was placed with the Army of the Interior, and that year he served during the 13th Vendémiaire when General Bonaparte fired his famous "whiff of grapeshot". Sent to the Army of Italy, Thiébault served on person="massena">Masséna's staff and fought at Rivoli in January of 1797, and then ten months later he was finally promoted to chef de bataillon. In December of 1798 he became Duhesme's chief of staff in the Army of Naples and the next month he distinguished himself in the attack on Naples, where General Championnet promoted him to chef de brigade on the field of battle. Thiébault continued to serve, fighting at Manfredonia in February and then San Germano and Isola in May. He went on leave in June of 1799.
Recalled to the Army of Italy in January of 1800, Thiébault returned to Masséna's staff and took part in the Siege of Genoa. After he retook the fort of Quezzi in April, Masséna promoted him to général de brigade. Thiébault returned to France in 1801 and commanded various military divisions until August of 1805. When war broke out that year, General Thiébault was given command of the 2nd Brigade of St. Hilaire's division. He fought at Austerlitz where he was wounded in the right arm and shoulder.
In 1806 Thiébault was made governor of Fulda, and in 1807 he became Junot's chief of staff in the unit that would eventually become the Army of Portugal. The next year he served at Vimiero and was promoted to général de division, remaining as Junot's chief of staff. In 1809 Thiébault commanded the province of Burgos and then in 1810 he returned to France briefly before coming Governor of Salamanca. That October he became chief of staff to IX Corps, and he used this experience to later publish a manual for chiefs of staff that was used throughout the French army for the next twenty years.1 In 1811 Thiébault became governor of Old Castille, Torro, Zamora, Ciudad-Rodrigo, and Almeida and his service did not go unnoticed for he was created a Baron of the Empire. That September Thiébault won the fight at Aldea de Ponte, and then he was ordered to supply Ciudad-Rodrigo, which he successfully did. In January of 1812 he took command of a division of the Army of the North in Spain.
Due to disagreements with General Caffarelli, Thiébault returned to France in January of 1813. Traveling to Mainz, he was given command of an infantry division and placed under Marshal Davout. Serving under Davout at Hamburg, he served throughout the siege until the final surrender in May of 1814.
The returning Bourbons made Thiébault a Knight of Saint Louis but then put him on non-activity. He rallied to Napoleon in 1815 and Napoleon gave him a command involved with the defense of Paris. After Napoleon abdicated a second time, Thiébault was again put on non-activity.
Notes
Bibliography
External Links:
Updated August 2016
© Nathan D. Jensen