Admiral Carel Hendrik Verhuell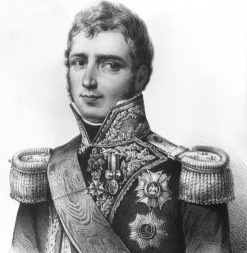 Dutch admiral in French service who defended Den Helder in 1813 and 1814
---
Born: February 11, 1764

Place of Birth: Doetinchem, Holland

Died: October 25, 1845

Place of Death: Paris, France

Arc de Triomphe: VERHUELL on the north pillar
Born in Holland, Carel Hendrik Verhuell initially embarked on a career in the Dutch infantry in 1775. Four years later he switched to the navy and was placed on the Dutch Frigate Argo. Verhuell was still serving on the Argo in 1781 when the Dutch fleet engaged a British fleet at the Battle of Dogger Bank. During the battle an explosion of cartridges on the Argo wounded Verhuell but afterwards he was promoted to lieutenant of vessel. The next year he was sent to the Mediterranean Sea where he would serve a number of years. In 1785 Verhuell notably calmed down and stopped a revolt of the crew of his frigate.
In 1791 Verhuell was promoted to captain of a frigate and given command of a corvette sent to the West Indies. Four years later, as French revolutionary forces moved into Holland and the Batavian Republic was formed, Verhuell resigned his command and retired.
Verhuell returned to the service in 1803 as a rear admiral and he took command of the Dutch fleet at Flessingue. Next he defeated the British at Cape Gris-Nez. Afterwards Verhuell was promoted to vice admiral and in 1805 he was appointed commander of the right wing of the naval forces assembled at Boulogne. In 1806 Verhuell was part of the Dutch delegation that asked Louis Bonaparte to become King of Holland, and later that year he received the Grand Eagle of the Legion of Honor. The next year he was sent as ambassador of Holland to Paris.
In 1809 Admiral Verhuell received new orders to protect the Dutch coast against a possible landing by the British. When Napoleon grew frustrated with his brother Louis and demanded his resignation, Verhuell supported joining Holland to the French Empire as new départements. In 1811 Verhuell was named Count of Sevenaër and he was given command of the French naval forces in the North Sea and Baltic Sea. Verhuell also took part in politics, becoming a deputy of the newly formed départment of Yssel to the Corps Législatif. In 1813 and 1814 Verhuell defended Den Helder against the Allies, and after Napoleon's abdication in 1814, he refused to surrender the fortress. Eventually he returned to Paris where he was naturalized as a French citizen and then retired.

Bibliography
Updated January 2017
© Nathan D. Jensen