General Jean-Charles Abbatucci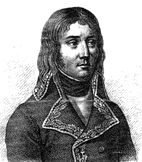 Général de brigade who was mortally wounded defending Huningue
---
Born: November 15, 1770

Place of Birth: Zicavo, Corsica, France

Died: December 2, 1796

Cause of Death: Mortally wounded

Place of Death: Huningue, France

Arc de Triomphe: ABBATUCCI on the east pillar
Pronunciation:
The son of General Jacques-Pierre Abbatucci who also served during the Revolution, Jean-Charles Abbatucci followed in his father's footsteps and entered military school in 1788. A year later he was commissioned as a sous-lieutenant in the artillery and then three years later in May of 1792 he was promoted to lieutenant. That November Abbatucci was promoted again, this time to capitaine, and he joined the horse artillery in the Army of the Rhine. In April of 1793 Abbatucci joined a company of light artillery, and then in December he became an aide-de-camp to General Pichegru. In 1794 he received a promotion to chef de brigade and joined the Army of the North, and then in 1795 he joined the Army of the Rhine and Moselle.
Abbatucci was quite active during the campaigns of 1796, initially taking part in the action at Kehl in June and then receiving a promotion to général de brigade in July. A few days after his promotion Abbatucci and his men seized the Army of Conde's bases of Ellmunster and Schweighausen, and then in August they forced the rear guard of the émigré army to collapse near Westerheim. A few weeks later, as Abbatucci's men were crossing the Lech River, some were swept away by the current, but Abbatucci quickly dove in and pulled many of the soldiers to safety. Next he was employed in Delaborde's division and then in October he took command of the division after Delaborde quit his command to defend himself from his detractors. Abbatucci went on to distinguish himself leading the division at the Battle of Schliengen later that month.
Two days after that battle, General Abbatucci was ordered to defend Huningue from the approaching Austrian forces. He frequently led from the front and distinguished himself defending the bridge against the Prince of Wurttemberg. As the Austrians demanded his surrender, he refused and continued to repulse their attacks. On the night of the 30th of November, he led another sortie out against the besiegers, but he was badly wounded. He was carried back to Huningue but died of his wounds on December 2nd. General Dufour took over the defense of the siege before finally surrendering in February of 1797.

Bibliography
Related Pages:
External Links:
Updated October 2016
© Nathan D. Jensen