General Józef Grzegorz Chłopicki de Nieczuja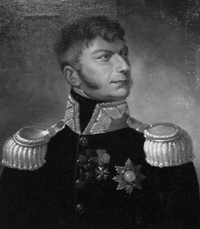 Commander of the Legion of the Vistula who served in Italy, Spain, and Russia
---
Born: March 14, 1771

Place of Birth: Kapustyn, Poland

Died: September 30, 1854

Place of Death: Krakow, Poland

Arc de Triomphe: KLOPISKY on the west pillar
Pronunciation:
Volunteering to join the Polish army in 1785, Józef Grzegorz Chłopicki de Nieczuja (also called Klopisky or De Necznia) was commissioned as a grenadier in December of 1789. In 1791 he was promoted to lieutenant and then in 1792 he fought against the Russians when the Russians invaded Poland. In 1794 Chlopicki served as aide-de-camp to General Rymkiewicz, he fought during the Kosciuszko Uprising, and he was promoted to captain.
In April of 1797 Chlopicki entered the service of France as a capitaine in the Polish Legion formed in Italy. He served in Italy for the next few years, being promoted to chef de bataillon in 1798 and fighting at the Battle of the Trebbia in June of 1799 where he was wounded. In 1801 Chlopicki served under Dombrowski at the Siege of Peschiera.
Chlopicki remained in Italy and during the campaign of 1805 he served at the combat of Castelfranco. In 1806 he served with the Army of Naples and then in 1807 he was called to Prussia and promoted to colonel of the 1st Polish-Italian Legion, later renamed the Legion of the Vistula. In 1808 Chlopicki was sent to Spain as part of III Corps and in August he was wounded at Saragossa while leading an assault column. In July of 1809 he was promoted to général de brigade and he briefly commanded the 2nd Regiment of the Vistula before that unit was disbanded. In the meantime Chlopicki was rewarded as a Commander of the Military Order of the Grand Duchy of Warsaw, an Officer of the Legion of Honor, and a Knight of the Iron Crown. In February of 1810 he served at Villastar. That October he seized Teruel and the following day he won at Alventosa. In November Chlopicki occupied Mont de Fuente Santa and then he later went on to participate in the Siege of Tortosa. In May of 1811 he was named a Baron of the Empire and then in October he joined Musnier's division and he fought on the right wing at Sagonte. That December he joined the Siege of Valencia and then in January of 1812 he was recalled to France.
In March of 1812 Chlopicki took command of the 1st Brigade of Claparède's division for the campaign against Russia. He served in Russia until he was wounded by a shot to the right leg near Mojaisk on September 10th, and afterwards he returned to France to recover. Chlopicki did not serve during the campaign in Saxony of 1813, and he resigned from the French army at the end of the year, claiming bad health. However, he was known to resent having not received a promotion to général de division. He returned to Poland in 1814 where he entered the Polish army but he resigned in 1818 over a misunderstanding. During the Polish uprising of 1830, he was named dictator on December 5th and he attempted to negotiate with Tsar Nicolas I. After unsuccessful negotiations, he resigned in January of 1831 and joined the Polish army as a volunteer. For a week in February he took command of the Polish army but he then returned to being a simple soldier. He fought at the Battle of Grochow on February 25th where he was wounded in both legs by the blast of a shell. Afterwards he retired to Krakow.

Bibliography
Updated May 2019
© Nathan D. Jensen