General Jean Hardy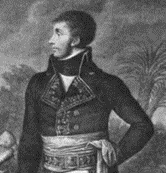 Général de division who died in Saint-Domingue in 1802
---
Born: May 19, 1762

Place of Birth: Mouzon, Ardennes, France

Died: May 29, 1802

Cause of Death: Illness

Place of Death: Cap Français, Saint-Domingue

Arc de Triomphe: HARDY on the north pillar
Pronunciation:
Jean Hardy was a notable general who in the short span of 16 months rose from captain to general. After enlisting in an infantry regiment in 1783, Hardy was promoted to sergeant in 1786. Promotions would be scarce for him until the Revolution, when in July of 1792 he was named capitaine of the 8th Battalion of the Marne. That September he fought at Valmy with his men, and afterwards he was given command of the battalion.
The next few years Hardy served with the Army of the Ardennes. In July of 1793 he took command of the 7th Battalion of the Marne and then led them into action at Wattignies that October. Taking part in the defense of Philippeville later that year, he was named commander there and then promoted to général de brigade. In 1794 he forced the gorges of Bossus-les-Walcourt and took Thuin before joining Marceau's division. With Marceau's division, he seized Fontaine-Fontaine-l'Evêque, took part in the siege of Charleroi, defended the passage of the Sambre, and fought at Fleurus .
In 1796, General Hardy served at the siege of Maestricht before taking command of Marceau's division after Marceau's untimely death. That October he took command of a brigade of Ligniville's division, then the next month he was badly wounded and forced to relinquish his command to take time to recover. By January of the next year he had recovered, and he took command of the 5th Division of the Army of the Sambre and Meuse.
The next year Hardy participated in the expedition to Ireland, but was taken prisoner on the ship Le Hoche. Exchanged at the end of December, in early 1799 he served in the Army of Mainz and then the Army of the Danube. Promoted to général de division in July, he then went on to serve in the Army of Switzerland before joining the Army of the Rhine. In December of 1800, Hardy was wounded by a fragment of an exploding shell at the combat of Ampfing, the battle leading up to the Battle of Hohenlinden. Due to his wounds, he relinquished his command to General Bastoul for that forthcoming battle.1
In late 1801, Hardy was employed as a divisional commander in the expedition to Saint-Domingue. After setting sail from Brest on the ship La Révolution, he arrived in February of 1802 and took command of the advanced guard. While there, he obtained the submission of General Christophe in April before dying in May, presumably of illness like many of the soldiers on the expedition.
Notes
Bibliography
Updated June 2016
© Nathan D. Jensen