General Charles-Édouard-Saül Jennings de Kilmaine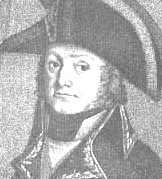 Irish born cavalry general who took part in Napoleon's first Italian campaign
---
Born: October 19, 1751

Place of Birth: Dublin, Ireland

Died: December 11, 1799

Cause of Death: Illness

Place of Death: Paris, France

Arc de Triomphe: KILMAINE on the north pillar
Pronunciation:
Born in Ireland, Charles-Edouard-Saül Jennings moved with his family to France at age eleven where his father changed their last name to Kilmaine. In 1774 he enlisted in the army as a dragoon and then in 1778 he joined the Navy. After a brief stint in Senegal, Kilmaine joined the volunteers of Lauzun in 1780 and was promoted to sous-lieutenant. With this group Kilmaine took part in the American Revolutionary War under Rochambeau's overall command. After the conclusion of that war, a promotion to lieutenant finally came for Kilmaine in 1786.
Supporting the French Revolution, Kilmaine became a capitaine in the 6th Hussars in January of 1792. Sent to the Army of the North, he fought at Jemappes where he distinguished himself and then later that month he was promoted to lieutenant colonel. In January of 1793 Kilmaine was promoted to colonel of the 6th Hussars and two months later he covered the retreat to Aldenhoven and was promoted to général de brigade. Kilmaine continued to serve with the Army of the North and that May he received another promotion, this time to général de division. In July he was named commander-in-chief of the Army of the North and the Army of the Ardennes, but the next month he was suspended from command due to his Irish birth. Nevertheless, Kilmaine repulsed the enemy at Marquion before leaving the service. Four months later in December Kilmaine was arrested and thrown in prison, but he survived and was released after the Thermidorian Reaction overthrew Robespierre's government in 1794.
In June of 1795 Kilmaine was reintegrated in the army as a general and he became deputy commander of the cavalry of the Army of Italy under General Stengel. The next year General Bonaparte took command of the Army of Italy to lead it to victory, and after Stengel was killed in April Kilmaine became the commander of the cavalry of the Army of Italy. Kilmaine commanded the advance guard for a time during the campaign and went on to serve at the crossing of the Mincio at Borghetto and at the Battle of Castiglione . That September he fought at Due Castelli and Saint-Georges before directing the siege of Mantua, and then in December he resigned his command due to illness.
In 1797 Kilmaine was left in charge of French operations in Italy as the army continued into Austria. He defeated Venetian insurgents in April before being replaced by General Augereau in May. Kilmaine continued to serve in various positions with the Army of Italy until that December when he was given command of the cavalry of the Army of England. The next year he was named commander-in-chief of the Army of England and for a time he helped plan another expedition to Ireland, but he resigned in December of 1798 due to illness again. He died a year later of chronic dysentery.

Bibliography
Updated June 2016
© Nathan D. Jensen