Colonel François Louis de Morland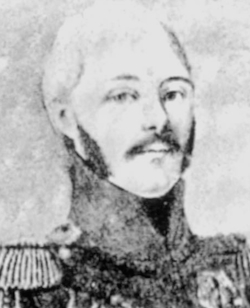 Colonel of the Chasseurs à Cheval of the Imperial Guard who was mortally wounded at Austerlitz
---
Born: June 11, 1771

Place of Birth: Souilly, Meuse, France

Died: December 5, 1805

Cause of Death: Mortally wounded

Place of Death: Brunn, Austria

Arc de Triomphe: MORLAND on the east pillar
The son of an equerry and infantry lieutenant, Françcois Louis de Morland first entered the army by joining the 11th Chasseurs à Cheval in March of 1791. That September he was promoted to sous-lieutenant and not long after he was designated for the Army of the North. The next year Morland was promoted to lieutenant, and then in 1793 he received a promotion to capitaine.
For the years of 1794 through 1797, Captain Morland served in the Army of the Ardennes and the Army of the Sambre and Meuse, notably serving at Sprimont in September of 1795 where he was wounded by a shot. Morland went on to later serve in the Army of Mainz, the Army of Holland, the Army of the Danube, and the Army of the Rhine from 1798 to 1801.
In 1801 Morland was promoted to chef d'escadrons in the 11th Chasseurs à Cheval, and the next year he was allowed to join the Chasseurs à Cheval of the Consular Guard. In 1804 he was named a Commander of the Legion of Honor and then in 1805 he was promoted to colonel of the 2nd Chasseurs à Cheval of the Imperial Guard. Eugene de Beauharnais was nominally in charge of the regiment, but given Eugene's absence, Morland was actually in charge.
Morland took part in the campaign of 1805 and fought at Austerlitz, where he was badly wounded, dying three days later. Doctor Larrey embalmed Morland's body and Napoleon had the body sent to Paris where it remained in storage for a number of years.

Bibliography
Updated May 2014
© Nathan D. Jensen