General Antoine Morlot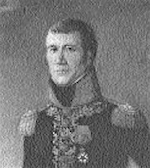 General who served notably in the Army of the Moselle and Army of the Sambre and Meuse
---
Born: May 5, 1766

Place of Birth: Bousse, Moselle, France

Died: March 22, 1809

Cause of Death: Illness

Place of Death: Bayonne, France

Arc de Triomphe: MORLOT on the north pillar
Joining the artillery at age sixteen in 1782, Antoine Morlot served in the army until 1790 when he obtained a leave to then join the National Guard of Richemont. In 1791 he was elected capitaine in the 3rd Battalion of Volunteers of Moselle and then the following year he and his men were sent to the Army of the Moselle. He served at the Siege of Thionville in 1792 and then in September of 1793 Morlot was promoted to général de brigade. Only two months later he commanded the 1st Brigade of the 1st Division of the Army of the Moselle and he led them into action at Kaiserslautern. Less than a week later the representatives of the people with the army promoted Morlot to général de division. In March of 1794 Morlot took command of a division of the left wing of the Army of the Moselle and then in April he fought at Arlon and was later pushed out of that city. That June he served at the Battle of Fleurus and was reassigned to the Army of the Sambre and Meuse. Morlot continued to command a division and he went on to serve at the Siege of Maestricht and then at Aldenhoven.
In 1796 Morlot was relieved of command for having made arbitrary decisions but then in 1797 he was reintegrated in his former rank. He was next sent to Perpignan to command the 10th military division and then in January of 1798 he was sent to the 3rd military division at Metz. In 1799 Morlot was employed with the French troops stationed in Holland and then in 1800 he served with the Army of the West and the second Army of the Reserve that was later renamed the Army of Grisons.
During the years of peace that followed, General Morlot was put on non-activity in 1801 and he was available without a major command for a number of years. In 1804 he was recognized as a Commander of the Legion of Honor, and then in 1805 he was finally re-employed when he took command of the 16th military division at Lille. In late 1807 he took a more active command when he joined the Corps of Observation of the Coasts of the Ocean under Marshal Moncey and commanded a division. The following year Morlot was sent to Spain where he took command of a division of III Corps under Marshal Mortier. In November of 1808 Morlot served at the Battle of Tudela and the following month he began to take part in the Siege of Saragossa. Morlot fell ill with a cerebral fever and died in March of 1809 at Bayonne.

Bibliography
Updated January 2016
© Nathan D. Jensen