General Marie-Antoine de Reiset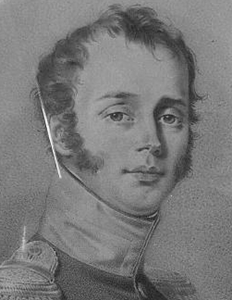 Cavalry officer known for his daring exploits in many battles
---
Born: November 29, 1775

Place of Birth: Colmar, Haut-Rhin, France

Died: March 25, 1836

Place of Death: Rouen, France

Arc de Triomphe: REISET on the west pillar
Pronunciation:
Born into a noble family, Marie-Antoine de Reiset was drafted at age seventeen into the 4th Battalion of Haut-Rhin in June of 1793. Almost immediately he saw combat near Wissembourg where he was wounded in the left leg, and afterwards he was sent home to recover due to not being eighteen years old yet. In April of 1794 Reiset returned to the army, joining the 14th Dragoons. That June he fought at Fleurus and then he was placed with the Army of the Sambre and Meuse when the armies were reorganized. The following month he went on a reconnaissance near Tongres when he was attacked and hit by numerous saber blows, being badly wounded and taken prisoner. However, Reiset was undeterred and the next day he escaped from captivity. Soon after Reiset was promoted to sous-lieutenant and attached to Kléber's staff.
In September of 1795 Reiset served at the siege of Maestricht and then at Dusseldorf. Later that month as he took part in the crossing of the Sieg River he was wounded by a lance blow to the left side. That December Reiset joined the 9th Dragoons, and then in June of 1796 he served with them at Altenkirchen, Uckerath, and Butzbach. In 1797 he was sent to the Army of Italy with the 17th Dragoons and then given a promotion to lieutenant that was backdated to December of 1796.
Reiset served with the Army of Switzerland in 1799 and he was named an aide-de-camp of General Klein in August. That September he served at the Battle of Zurich . In April of 1800 he was appointed an aide-de-camp to General Richepanse and then in June he received a promotion to capitaine. When hostilities resumed that winter, Reiset took part in the short campaign and distinguished himself at Hohenlinden. Two weeks later he managed to take General Loepper prisoner at Voecklabruck.
During the years of peace that followed, Reiset was promoted to chef d'escadrons in 1801 and he joined the 16th Dragoons at Soissons in 1802. Sent to the camp of Boulogne in July of 1805, the next month he joined the 4th Dragoons in Baraguey d'Hilliers division in the Grande Armée. During the campaign that autumn, Reiset was sent to the dragoon depot at Neubourg and then he rejoined the army. After returning to the 16th Dragoons, Reiset took part in the campaign against Prussia in 1806. At the Battle of Jena in October he distinguished himself by taking Prince Auguste of Prussia prisoner. The next month Reiset was appointed a major and sent to the cavalry depot of Potsdam. Once there he became the chief of staff to General Bourcier who was commanding the depot.
At the start of 1808 Reiset returned to France and joined the 1st Dragoons. As Austria prepared for war in the spring of 1809, Reiset was promoted to colonel of the 1st Dragoons and placed with the Army of Germany. Taking part in the campaign against Austria, he defeated an Austrian column at Neumarkt in May and took them prisoner. In 1810 Colonel Reiset was appointed colonel of the 13th Dragoons in Spain, and that March he served at Astorga where he was wounded by a ball to the left foot. In August of 1812 he fought at Las Rosas where he and his men charged and he received numerous wounds due to saber blows. Afterwards, he obtained a leave to recover from his wounds and returned to France.
February of 1813 saw Reiset promoted to général de brigade and then in March he received the honor of being named a Baron of the Empire and was given command of a brigade of Doumerc's 3rd Cuirassier Division in I Cavalry Corps. Reiset served in Germany throughout the campaign of 1813, taking command of a dragoon brigade in August. Seeing plenty of action, he fought near Goldberg on August 23rd where he was wounded by a blow of a lance to the kidneys during a charge, and then only a few days later he served at the Battle of Dresden. Reiset went on to serve at the Battle of Leipzig in October.
Reiset took a command at Mainz at the start of 1814. After Napoleon's abdication that year, the restored Bourbons named Reiset a Knight of Saint Louis and a Grand Officer of the Legion of Honor. General Reiset did not rejoin Napoleon during the Hundred Days of 1815.

Bibliography
Updated March 2015
© Nathan D. Jensen