General Louis Baraguey d'Hilliers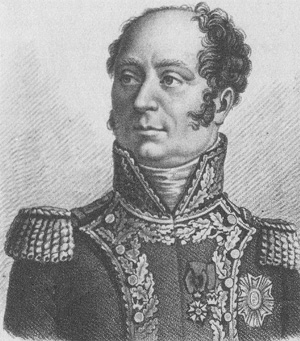 Dragoon commander who served in Italy and was disgraced in Russia
---
Born: August 13, 1764

Place of Birth: Paris, Paris, France

Died: January 6, 1813

Cause of Death: Illness

Place of Death: Berlin, Prussia

Arc de Triomphe: B

ey

DHILLIERS on the south pillar
Pronunciation:
Louis Baraguey d'Hilliers began his career as an infantry cadet in Alsace in 1783 and four years later he was commissioned as a lieutenant. In 1792 he became a capitaine in the 11th Battalion of Light Infantry and later an aide-de-camp to General Crillon and then General La Bourdonnaye. That fall Baraguey d'Hilliers was promoted to colonel and became Custine's primary aide-de-camp, and he served at Spire, Worms, Mainz, Francfort-sur-le-Mein, and Bockenheim. In early 1793 he was wounded at the combat of Hochheim and then in April he was promoted to général de brigade and became chief of staff first to Custine, then later to General de Beauharnais. That June Baraguey d'Hilliers was suspended and then the next month he was arrested and thrown into prison at l'Abbaye. A year later in July of 1794 finally saw Baraguey d'Hilliers being put on trial, but he was acquitted and released, being reintegrated in the army as a general.
General Baraguey d'Hilliers' next position was as chief of staff to the 17th military division in Paris in 1795. He was ordered to disarm the suburb of Saint-Antoine, but then in October he was suspended and relieved of command. The next month he was brought before a council of war to examine his conduct, but he was released and sent to serve in the Army of the Coasts of Cherbourg.
In May of 1796 Baraguey d'Hilliers joined the Army of Italy. That August he became commander of Lombardy at Milan, and then in January of 1797 he joined Rey's division and fought at Rivoli . Next he was given command of the advance guard, and in February he won at Brentonio and then seized the fort of Arco. In March Baraguey d'Hilliers received a promotion to général de division and fought at Lavis. Next he went to Verona, and then in May he seized Venice.
In 1798 Baraguey d'Hilliers was designated for the Army of England, and when that force became the Army of the Orient, he embarked with them from Genoa. He took part in the fighting on Malta, but he was then chosen to return to Paris with the flags taken at Malta. He set out on the frigate Le Sensible which was intercepted by an English ship. During the fighting with the English ship, Baraguey d'Hilliers threw his dispatches and the captured flags into the sea to prevent the British from obtaining them, but he was wounded and captured along with the ship. Most of the prisoners were released in Sardinia, but Baraguey d'Hilliers and other officers were transported to Portsmouth and held until a prisoner exchange.
Baraguey d'Hilliers next command came in June of 1799 when he became chief of staff of the Army of the Rhine. That November he took command of the left wing, and in December he distinguished himself by his courage during the explosion of the powder magazine of Landau. In March of 1800 Baraguey d'Hilliers took command of the 2nd Division of Gouvion St. Cyr's corps, and he led them into battle in May at Engen and Biberach. That July he left the Army of the Rhine to join the 2nd Army of the Reserve. Baraguey d'Hilliers finished out the year by joining the Army of Grisons in November, then winning at Casanova in December.
Over the next few years, Baraguey d'Hilliers first became inspector general of infantry for a number of military divisions. Then in 1803 he took command of a division of dragoons at the camp of Compiègne, and in 1805 he was rewarded with a Grand Eagle of the Legion of Honor. When war broke out later that year, he led a dragoon division on the campaign, serving under Marshal Ney at Elchingen . He was named commander of Ingolstadt on the 23rd of October, and then in November he occupied Pilsen. In 1806 he went to Italy and took command of the I Corps of the Army of Italy under Eugene de Beauharnais, and in 1808 he became Governor of Venice and a Count of the Empire.
Baraguey d'Hilliers was active in the campaigns of 1809 in Italy, first winning in April at Noviglio and then serving in the left wing of the Army of Italy. That May he fought at Piave and Tarvis, and then in June he served at the Battle of Raab and the following siege of Raab. At the end of the year he served against the rebel Andreas Hofer in the Tyrol.
In August of 1810 Baraguey d'Hilliers was sent to Spain to serve with the Army of Catalonia, and that November he became Governor of Upper Catalonia. While there he invested the fort of Figuières, and then in 1812 he returned to France.
For the campaign in Russia of 1812, Baraguey d'Hilliers was attached to the staff of the Grande Armée. That August he was named Governor of Smolensk and he took command of a division of IX Corps under Marshal Victor. In November, as the army was retreating, one of his brigade surrendered at Ielnia, and he was suspended from his command for this failure. He was ordered to return to France to await an inquiry into his conduct, but he never made it, falling ill in Berlin on the way and dying in January of 1813.

Bibliography
Updated April 2019
© Nathan D. Jensen