General Louis-Emmanuel Rey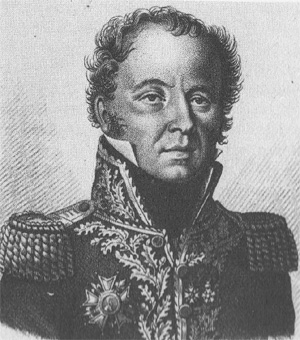 General who led the heroic defense of Saint-Sébastien in 1813
---
Born: September 22, 1768

Place of Birth: Grenoble, Isère, France

Died: June 18, 1846

Place of Death: Paris, France

Arc de Triomphe: E

EL

REY on the west pillar
Originally enlisting in the French army in 1784, Louis-Emmanuel Rey did not become an officer for eight years until 1792 when he was commissioned as an infantry lieutenant. Assigned to the Army of the Alps, in 1793 he was promoted to capitaine in the 14th Chasseurs à Cheval and in 1794 he was promoted to chef de bataillon. A trend of receiving one promotion a year would continue, for in 1795 Rey was promoted to chef de brigade and then in 1796 he was promoted to général de brigade. He was next tasked to command the camp at Lyon, where he remained until September of 1797.
In 1799 General Rey was employed in the 6th military division and then the 19th military division. During the years of peace that followed, he took command of the département of Jemappes in the 24th military division. When war broke out in 1805, Rey was sent to command the camp of Boulogne after the various corps had left for battle. He maintained the camp for the next three years and was then created a Baron of the Empire in 1808.
In August of 1808 Rey was appointed chief of staff to Gouvion St. Cyr's corps in the Army of Spain. He went on to serve at Barcelona and the first siege of Tarragona and then commanded a reserve brigade. In 1811 Rey was appointed Governor of Saint-Sébastien where he would remain for the next few years. After the French loss of the Battle of Vitoria in June of 1813, the British laid siege to Saint-Sébastien which Rey heroically resisted. He took part in two sorties and repulsed multiple assaults from the enemy. Unfortunately for Rey, at the end of August an explosion of a magazine caused a panic among his men and they could not prevent the British from making their way into the city. Rey fell back into castle where he and his men continued to hold out until they finally ran out of food and then surrendered.
Rey was transported to England as a prisoner of war, but due to his heroic resistance at Saint-Sébastien, Napoleon promoted him to général de division and made him a Grand Officer of the Legion of Honor despite Rey being in captivity. After Napoleon's abdication in 1814, Rey was returned to France where the restored Bourbons made him a Knight of Saint Louis but also put him on non-activity. When Napoleon escaped from exile in 1815 for the Hundred Days, he placed General Rey in charge of Valenciennes. After Napoleon's second abdication, Rey retired from the military.
Rey was married to the sister of General Curial.

Bibliography
Updated July 2014
© Nathan D. Jensen