General Jean-Gaspard-Pascal René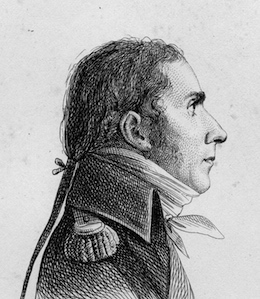 Staff officer who was captured by guerrillas in Spain and tortured and killed
---
Born: June 20, 1768

Place of Birth: Montpellier, Hérault, France

Died: June 29, 1808

Cause of Death: Executed

Place of Death: La Carolina, Spain

Arc de Triomphe: RÉNÉ on the west pillar
The son of a professor of medicine, Jean-Gaspard-Pascal René was commissioned as a sous-lieutenant in the regiment of Aquitaine in January of 1792. Six months later he was promoted to lieutenant and serving in the Army of the Alps. In 1793 René took part in the Siege of Toulon and afterwards he received a promotion to capitaine. Next he was sent to the Army of the Eastern Pyrenees, and in early 1795 he took part in the sieges of Roses where he was wounded by a shot.
When the Army of the Eastern Pyrenees was mostly sent to the Army of Italy, René went with them and took part in the campaigns in Italy in 1796 and 1797. In January of 1797 he fought at Rivoli where he distinguished himself by taking the surrender of 1800 Austrian soldiers. In recognition of this achievement, he received a saber of honor.
René next went to the Army of Switzerland in 1798 for a brief period of time before he joined the Army of the Orient. Serving on the campaign in Egypt, he fought at Malta and Alexandria before he was appointed to the general staff. That November René was promoted to chef d'escadrons and he then took part in the expedition to Syria. He went on to serve at the Siege of Acre and then at Abukir where he was burned by an explosion of a caisson. A promotion to chef de brigade followed in September of 1799, and then in April of 1800 René took part in the negotiations for the surrender of Cairo. General Kléber offered René as a hostage to the insurgents during the negotiations and he survived the experience unharmed. The next year René was appointed chief of staff of the Army of the Orient and then promoted to général de brigade before the French surrendered in Egypt.
Once back in France, General René was employed in the 9th military division and then the 13th military division. He was named a Commander of the Legion of Honor in 1804, and then when war broke out in 1805 he was named to Marshal Berthier's general staff. During the campaign against Austria, René was named commander at Augsbourg. The next year when the Grande Armée went on campaign against Prussia he was named commander at Potsdam and then commander at Leipzig.
Following the peace of the Treaty of Tilsit, General René was assigned to II Corps. In 1808 he was honored as a Baron of the Empire and a Knight of the Military Order of Maximilien-Joseph of Bavaria. Sent to Spain to serve with the II Corps, General René was traveling through Andalusia when he was captured by Spanish guerrillas. Despite his high rank and potential for exchange, the guerrillas tortured him before killing him by dropping him into a cauldron of hot oil.

Bibliography
Updated October 2014
© Nathan D. Jensen