Admiral Joseph de Richery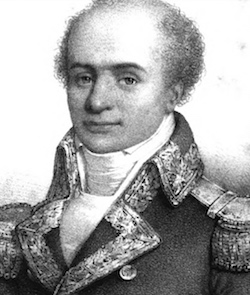 Admiral who seized numerous British merchant ships and raided Newfoundland
---
Born: September 13, 1757

Place of Birth: Allons, Bas-Rhin, France

Died: March 22, 1799

Cause of Death: Illness

Place of Death: Allons, France


Born into a poor but noble family, Joseph de Richery embarked on a naval career as a ship's boy at nine years old. In 1774 he was admitted to the French navy as a garde de la marine and in 1778 he was promoted to ensign of vessel. Richery took part in the American Revolutionary War, distinguishing himself on Hector during the events surrounding Newport. In 1781 he set sail on Vengeur and traveled to the Indian Ocean where he took part in six combats. Four years later Richery was shipwrecked on Île Bourbon while trying to make his way back to France. Instead of returning to France, Richery received command of a new ship and served in the seas surrounding southeastern Asia and Australia. In 1787 he happened to be at Macau when Admiral Lapérouse's scientific expedition stopped there.
In 1789 Richery was promoted to lieutenant of vessel and then in 1791 and 1792 he served in the Indian Ocean on Fidèle. He was promoted to captain of vessel in 1793 but then in 1794 he was relieved as a noble. However, in 1795 he was reintegrated into the navy and ordered to lead a squadron of French ships from Toulon to Brest. Along the way his ships met a convoy of British merchant ships near Cape Saint Vincent and attacked, seizing thirty merchant ships and the ship of the line Censor. Richery led his new prizes to Cadiz and he received a promotion to rear admiral. In August of 1796 he left Cadiz and set sail for Newfoundland, arriving in a remarkably short period of time. During this raid, Richery and his forces destroyed British fisheries and took or destroyed more than eighty British ships. With their mission complete, his squadron returned to Rochefort.
In December of 1796 Richery took command of a squadron of the fleet assembled to support the French expedition to Ireland. Embarking on the vessel Pégase, Richery was delayed from leaving Rochefort by British ships, but he managed to elude them and then join up with the fleet assembled by Rear Admiral Bouvet. Richery's squadron joined Bouvet in traveling to the Bay of Bantry and then departing when the commanders General Hoche and Admiral Morard de Galles failed to arrive in time. Afterwards, he returned to Brest with the fleet. Falling ill, he did not participate in further naval adventures and he died two years later.

Bibliography
Updated January 2017
© Nathan D. Jensen