General Jean Louis Romeuf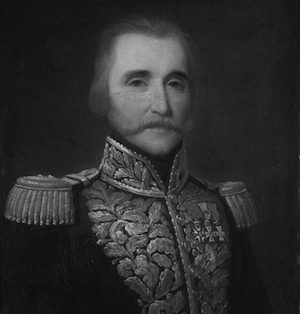 Aide-de-camp to Lafayette who fled France alongside him and later returned to France to serve as a successful staff officer
---
Born: September 26, 1766

Place of Birth: Voulte-Chilhac, Haute-Loire, France

Died: September 9, 1812

Cause of Death: Mortally wounded

Place of Death: Borodino, Russia

Arc de Triomphe: ROMEUF on the east pillar
Jean Louis Romeuf began his military career in September of 1789 when he became an aide-de-camp to General Lafayette in the National Guard of Paris. Two years later when it was discovered that the king and his family had attempted to flee France and were caught at Varennes, Romeuf was sent after them and he brought them back to Paris. In September of 1791 Romeuf was promoted to capitaine in the 12th Dragoons, but the next year he deserted France with Lafayette, only to be taken prisoner by the Austrians. Romeuf was held at the chateau of Olmutz for the next five years until General Bonaparte secured his release as part of the preliminary treaties of Leoben in 1797.
In 1798 Romeuf was named to the staff of the Army of Orient but he stopped in Malta and did not continue on to Egypt. He returned to France the following year, and then in 1800 he was promoted to chef d'escadrons and attached to the 11th Hussars. Later that year he became an aide-de-camp to General Mathieu Dumas. In 1803 Romeuf was sent to the camp of Bruges where he served under Davout and he was named an adjudant-commandant. For the campaign of 1805 he served on General Dumas' staff. Rewards would follow, for in 1807 Romeuf was named a Commander of the Legion of Honor and in 1808 he was named a Knight of the Order of Saint Henry of Saxony.
For the Danube campaign of 1809, Romeuf was employed in Marshal Davout's III Corps as a staff officer. After the successful conclusion of the campaign, he was named a Baron of the Empire. In 1810 Romeuf was sent on a mission to Vienna to repatriate French soldiers who were serving in the Austrian army and in 1811 he was promoted to général de brigade. For the campaign against Russia of 1812, General Romeuf was named chief of staff of Davout's I Corps. He served throughout the campaign until he was badly wounded at the Battle of Borodino, dying two days later.

Bibliography
Updated February 2022
© Nathan D. Jensen