General Mathieu Dumas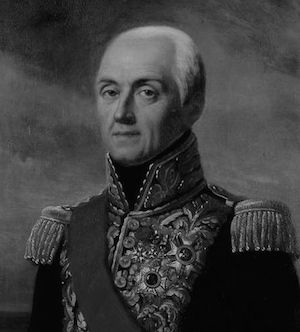 Intendant General of the Grande Armée from 1812 to 1813
---
Born: November 23, 1753

Place of Birth: Montpellier, Hérault, France

Died: October 16, 1837

Place of Death: Paris, France

Arc de Triomphe: M

IEU

DUMAS on the east pillar
Pronunciation:
Born into a noble family, Mathieu Dumas entered the army as a sous-lieutenant of chasseurs in the infantry regiment of Médoc in 1773. The next year he was promoted to lieutenant and then in 1780 he was promoted to capitaine. That year Dumas first became an aide-de-camp to the Marquis de Puységur before then becoming an aide-de-camp to Rochambeau and he took part in the American Revolutionary War in this role. In 1783 he took part in the expedition against Jamaica and then in 1784 and 1785 he served on a mission to Turkey and the surrounding areas. Dumas was next sent to Antwerp in 1787 and he then witnessed the Siege of Amsterdam. That year he was also appointed a Knight of Saint Louis and promoted to mestre de camp.
In 1789 Dumas served as aide-de-camp to Marshal de Broglie until October when he became an aide-de-camp to Lafayette. Two years later in 1791 he was appointed director general of the depot of war and he accompanied the troops ordered to take King Louis XVI back to Paris from Varennes after the king's failed attempt to escape France. Next Dumas was promoted to maréchal de camp and then in September he was elected a deputy of Seine-et-Oise to the Legislative Assembly. He sat on the right and in 1792 he became president of the assembly. In March he voted against the emancipation of the blacks, in April he voted against going to war, and in May he voted against dismissing the Constitutional Guard of the King. On August 10th the Tuileries was stormed by revolutionaries and Dumas was threatened enough that he had to hide. He obtained a leave in September and then he left France with a disguise and went to live in Switzerland. After the Thermidorian Reaction brought down Robespierre, Dumas returned to France and in 1795 he became director of the depot of plans of campaign in the Ministry of War. That year he was also elected a deputy of Seine-et-Oise to the Council of Ancients where he sat on the right and formed the Clichy club. In September of 1797 Dumas was proscribed at the coup of 18 Fructidor and he escaped and took refuge at Hamburg.
After Napoleon took power in November of 1799 with the coup of 18 Brumaire, Dumas returned to France. In March of 1800 he was ordered to organize the Army of the Reserve at Dijon and in August he served as chief of staff of Macdonald's Army of Grisons. In 1801 Dumas served as ambassador to Naples and he was named a Councilor of State. In 1804 he became Marshal Davout's chief of staff at the camp of Bruges and then in February of 1805 he was promoted to général de division. In September Dumas joined the staff of Marshal Berthier and during the campaign he served at Ulm, Elchingen , and Austerlitz. The next year he was sent to Naples where he became King Joseph Bonaparte's Minister of War and the Grand Marshal of the Palace. Dumas followed Joseph to Spain in 1808 where he served as Minister of War again.
In January of 1809 Dumas was sent on a mission to the 8th military division and then in April he was named deputy chief of staff of the armies in Germany. In this role he served at the Battle of Aspern-Essling and the Battle of Wagram and in 1810 he became a Count of the Empire. In 1812 Dumas was named Intendant General of the Grande Armée for the campaign in Russia. He served in Russia in 1812 and then in Saxony in 1813 where he was taken prisoner at the Battle of Leipzig in October.
Dumas was held in Hungary until June of 1814 when he was allowed to return to France. He was given a position with the new government but during the Hundred Days in 1815 he served as a Councilor of State and organized the National Guard. Dumas retired from the army in September but he resumed a military career in 1818 and he served as a deputy of Paris from 1828 to 1832.

Bibliography
Related Pages:
Updated August 2021
© Nathan D. Jensen