General Jean Baptiste Franceschi-Delonne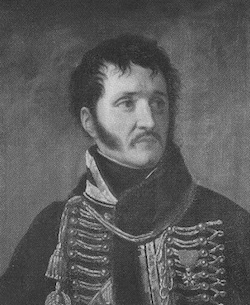 Volunteer during the Revolution who rose to become Soult's aide-de-camp and a general who died in Spanish prisons in 1810
---
Born: September 4, 1767

Place of Birth: Lyon, Rhône, France

Died: October 23, 1810

Place of Death: Cartagena, Spain

Arc de Triomphe: FRANCESCHI on the west pillar
Originally working as a sculptor, Jean Baptiste Franceschi-Delonne was elected a sous-lieutenant in the Company of Arts in Paris in September of 1792. Before long his company became part of the 9th Battalion of Volunteers of Paris. Sent to the Army of the Moselle, Franceschi-Delonne served with the artillery and he served at Kaiserslautern and Lambach in 1793. In 1794 he joined General Debelle's staff in the artillery of Hatry's Corps and later that year he joined the Army of the Sambre and Meuse. Two years later in 1796 Franceschi-Delonne distinguished himself at Uckerath and then again during the retreat on Dusseldorf. That October he was named an aide-de-camp to General Debelle and then a month later he transferred to the cavalry. Franceschi-Delonne took part in the expedition to Ireland in December of 1796 that failed to land any troops. After returning to France, in February of 1797 he was promoted to lieutenant in the 4th Hussars. Two months later Franceschi-Delonne served at the Battle of Neuwied where General Hoche promoted him to capitaine on the battlefield. In 1798 he served with the Army of Mainz.
In 1799 Franceschi-Delonne first served on General de Billy's staff in the Army of the Danube and then in June he became General Soult's aide-de-camp. That August he served in the attack of Uznach and then in September he served at the crossing of the Linth. The next month General Masséna promoted Franceschi-Delonne to chef d'escadrons. Next Franceschi-Delonne joined the Army of Italy where he served under Soult again. He left Genoa shortly before the Siege of Genoa began to give a report to First Consul Bonaparte. After delivering his report, Franceschi-Delonne returned to Genoa which was now under siege and blockaded. He attempted to get past the blockade in a rowboat with six oarsmen, and made it past much of the British fleet before they were spotted. To escape capture, Franceschi-Delonne dove into the sea and swam to safety.
In 1801 Franceschi-Delonne returned to the 4th Hussars and then in 1802 he was again named an aide-de-camp to General Soult. The following year he was promoted to colonel and then in 1804 he became a Commander of the Legion of Honor. Franceschi-Delonne took command of the 8th Hussars in 1805 and when the Grande Armée moved east to deal with the Third Coalition later that year his regiment became part of Margaron's brigade in Marshal Soult's IV Corps. Franceschi-Delonne took part in the campaign and served at the Battle of Austerlitz in December. On Christmas Eve of 1805 he was promoted to général de brigade.
Franceschi-Delonne was next sent to Italy where he took command of the 1st Brigade of Fiorella's division and participated in the blockade of Venice. He joined Verdier's division in the Army of Naples in January of 1806 and then in February he took command of the brigade of reserve cavalry in Reynier's corps. Franceschi-Delonne served in Calabria and then at Campo-Tenese and Santa-Eufémia. With Naples secure, he became an aide-de-camp to King Joseph Bonaparte in March of 1807 and then he was honored as a Knight of the Iron Crown in December of that year.
In 1808 Franceschi-Delonne married the daughter of General Dumas and he was authorized to follow King Joseph to Spain. That September he took command of a brigade of light cavalry in the corps of the center under Marshal Ney. The next month Franceschi-Delonne served at Lérin and in November he fell under Marshal Soult's command again and then he served at Burgos. Franceschi-Delonne defeated the Marquis of La Romana at Mansilla in December of 1808 and then a few days later he won at Fuencebadon. In March of 1809 he served at Chaves, Carvalho, and Oporto. Next Marshal Soult ordered Franceschi-Delonne to carry a summary of their operations to King Joseph in Madrid. Franceschi-Delonne left Zamoro and along the way he was taken prisoner in the area of Toro by the bandit El-Capuchino. Due to his rank he was sent to the Duke of El-Parque at Ciudad-Rodrigo and then to Séville. Next Franceschi-Delonne was conducted to Alhambra at Granada before he was finally sent to the prisons of Cartagena. Treated harshly by his captors, Franceschi-Delonne died in prison in 1810.

Bibliography
Related Pages:
Updated September 2019
© Nathan D. Jensen