General Pierre Margaron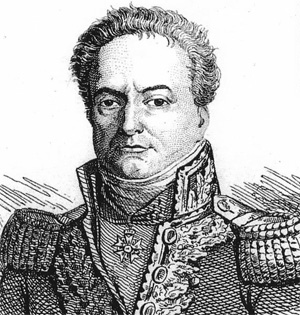 Cavalry general who fought at Austerlitz and Jena
---
Born: May 1, 1765

Place of Birth: Lyon, Rhône, France

Died: December 16, 1824

Place of Death: Paris, France

Arc de Triomphe: MARGARON on the north pillar
Pronunciation:
Pierre Margaron first joined the French army in August of 1792 when he became a capitaine in the legion of Ardennes. The next year he was promoted to chef de brigade but was then suspended a few months later. Reinstated in 1794, he was sent to the Army of the North where in 1795 he served in their staff. In 1796 Margaron served with the Armies of the Sambre and Meuse and then in 1798 he transferred to the Army of Italy where he took command of the 1st Cavalry Regiment. Action followed in 1799 when Margaron fought at Novi where he was wounded by a ball. Nevertheless Margaron kept fighting and then was serving at Fossano when his right leg was broken.
In 1803 Margaron was promoted to général de brigade and sent to the camp of Saint-Omer to command a brigade of light cavalry. The following year he was rewarded as a Commander of the Legion of Honor, and then when war broke out in 1805 his light cavalry brigade became part of Marshal Soult's IV Corps. Serving throughout the campaign that year, Margaron fought at Austerlitz where he was wounded by two shots.
The next year Margaron returned to France but then returned to Germany to take command of his brigade shortly before the Prussian campaign. Once again leading his brigade, he fought at Jena and Nossentin before taking command of the 1st Brigade of Sahuc's 4th Dragoon Division. With this new command, Margaron fought at Biezun in December and then Mohrungen in January.
In 1808 General Margaron was designated for the Army of Portugal. During that campaign, he won at Leiria and took Thomar before fighting at the Battle of Evora. In August of that year he commanded the cavalry at the Battle of Vimiero and afterwards returned to France to command a cavalry depot. Margaron was sent back to Spain in January of 1809 and created a Baron of the Empire. However he did not remain there for long, instead being called to Strasbourg for a time and then sent to Spain again. Finally he returned to France to stay at the end of 1809.
Margaron was named commander of the Haute-Loire département in 1810 where he would remain until the Russian campaign of 1812. For that campaign in 1812, he took a staff position with the army. He was continuing to serve with the staff in 1813 in Saxony when he was promoted to général de division.
After Napoleon's abdication in 1814, the returning Bourbons named Margaron a Knight of Saint Louis and inspector general of gendarmerie. When Napoleon returned from exile for the Hundred Days, he placed Margaron in charge of the cavalry depots of two military divisions. With the return of the Bourbons once again, they put Margaron on non-activity.

Bibliography
Updated January 2014
© Nathan D. Jensen