General Louis-Michel-Antoine Sahuc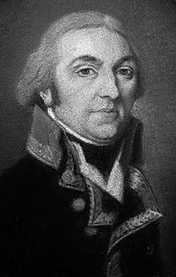 Career cavalry soldier who also held a successful political career
---
Born: January 7, 1755

Place of Birth: Mello, Oise, France

Died: October 24, 1813

Cause of Death: Illness

Place of Death: Frankfurt, Germany

Arc de Triomphe: SAHUC on the north pillar
Pronunciation:
A career cavalry soldier, Louis-Michel-Antoine Sahuc enlisted in 1772 but only made it to the rank of lieutenant seventeen years later in 1789. In 1792 he became an aide-de-camp of General Noailles and served in the Army of the North. During this time, Sahuc fought at Courtrai where he was wounded by a shot to the eye, and the next month he was named a Knight of Saint Louis and lieutenant colonel in the 1st Chasseurs à Cheval. Sahuc went on to serve at Valmy under General Kellermann, and then in 1793 he fought at Arlon. In 1794 he fought at Fleurus , transferred to the Army of the Sambre and Meuse, and received a promotion to chef de brigade of the 1st Chasseurs à Cheval.
Sahuc continued to serve during the Revolutionary Wars, serving at the crossing of the Rhine at Neuwied in July of 1796. Two years later he joined the Army of the Danube, and in March of 1799 he fought at Liptingen where he was wounded by a lance blow. A month later Sahuc was promoted to général de brigade, and then in October he joined the Army of the Rhine. In May of 1800 he fought at Tengen and then in June he served under Richepanse and defended Siningen during the combats and investment of Ulm. That December Sahuc fought at the Battle of Hohenlinden as part of Richepanse's division, and he followed that battle by fighting at Hersdorf, Strasswabchen, and Lambach later that month.
Sahuc's career next took a more political turn when in 1802 he joined the Tribunate as a representative of Oise. Two years later he served as the secretary of the Tribunate and was named a Commander of the Legion of Honor. Nevertheless, when war broke out in 1805, Sahuc returned to the army to command the 2nd Brigade of the 4th Dragoon Division. In this capacity he served at Hasslach in October.
In recognition of his services, Sahuc was promoted to général de division in January of 1806. Five months later he took command of the 4th Dragoon Division and he then led them into action in the campaign against Prussia that October. He served at Lubeck in November and then at Biezun in December. In May of 1807 Sahuc was sent back to France to take command of the 19th military division.
Back in France, in 1808 Sahuc was elected to the Corps Législatif as a deputy of the Rhône département, a position he would hold for the next four years. In the meantime he was also created a Baron of the Empire. Despite his political responsibilities, in 1809 Sahuc joined the Army of Italy as commander of a division of light cavalry. That April he was beaten at Pordenone and then served at Sacile, and in May he fought at Piave and San-Michele. Sahuc went on to serve at Raab in June and then was wounded the day before the Battle of Wagram . After this campaign, he returned to his political office.
In 1812 Sahuc was ordered to take command of the depot of Limoges and inspect the horses there. Following that appointment, he was next made inspector general of depots and hospitals between the Rhine and the Oder. Unfortunately, he fell ill with typhus and died in 1813.

Bibliography
Updated January 2017
© Nathan D. Jensen