General Benoît-Prosper Sibuet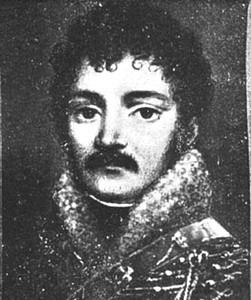 Aide-de-camp to Marshal Masséna and général de brigade who was killed at Lowenberg
---
Born: June 6, 1773

Place of Birth: Belley, Ain, France

Died: August 29, 1813

Cause of Death: Killed in action

Place of Death: Lowenberg, Poland

Arc de Triomphe: SIBUET on the south pillar
Like many others during the Revolution, Benoît-Prosper Sibuet entered the military as a volunteer, joining the 2nd Battalion of Ain in December of 1791. Sent to the Army of the Rhine the next year, he was promoted to sous-lieutenant in August of 1793. A month later Sibuet was promoted to lieutenant and sent to the staff of the Army of the Eastern Pyrenees. During his time with that army Sibuet fought at Puycerda in July of 1795 where he was wounded.
By this time Sibuet had decided to join the cavalry, and after serving with the 16th Cavalry Regiment he then went to the cavalry school at Versailles for 18 months. In 1798 he returned to active campaigning when he joined the Army of Switzerland, and in late 1799 he became an aide-de-camp to General Masséna. Serving with Masséna, Sibuet took part in the defense of Genoa, during which he was wounded by a shot to the left heel and promoted to capitaine.
Sibuet remained in Italy, serving with the Army of Naples. In 1804 he was awarded the Legion of Honor and in 1805 he received a promotion to chef d'escadrons. When war broke out in 1805, Sibuet served in Italy as Marshal Masséna's aide-de-camp, and he fought at Caldiero that October. The next year he served in the Army of Naples but then followed Masséna to the Grande Armée in Poland.
In 1808 Sibuet joined the 119th Ligne and then in 1809 he was appointed a major in the 96th Ligne. That year he served in Holland in the Army of Brabant and then in 1810 he returned to the 96th Ligne and became a Knight of the Empire.
Sibuet served in Russia in 1812 and after surviving the retreat he was promoted to colonel of the 147th Ligne in early 1813. Taking part in the campaigns in Germany that year, Sibuet's regiment formed part of the 17th Division and he was named an Officer of the Legion of Honor. On August 22nd he was promoted to général de brigade and given command of the 2nd Brigade of the 17th Division. A week later Sibuet was leading his men at Lowenberg for an attempt to cross the Bobr River when he was wounded and then drowned in the river.

Bibliography
Updated August 2014
© Nathan D. Jensen