Admiral Aimable Gilles Troude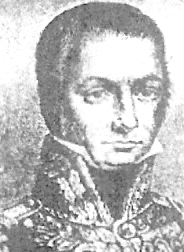 Naval officer who distinguished himself at the Battle of Algéciras
---
Born: June 1, 1762

Place of Birth: Cherbourg, Manche, France

Died: February 1, 1824

Place of Death: Brest, France

Arc de Triomphe: TROUDE on the west pillar
Pronunciation:
Beginning his naval career as a pilot aboard Sainte-Catherine in 1776, Amable Gilles Troude was then sent to Martinique in 1777. In 1780 he served aboard Hercule and took part in the campaign to Martinique and Saint-Domingue. During Troude's time aboard Hercule he took part in three naval combats under Admiral Guichen, ultimately under the orders of the Count of Grasse. He served at Saint Lucia and Tobago and in 1782 he returned to France. Troude was next sent on the frigate Crescent to the Siege of Gibraltar where he took part in a naval combat. From 1785 to 1789 he worked at the port of Cherbourg.
After the onset of the Revolution, Troude commanded merchant ships sent to Saint-Domingue until 1793. That year he was promoted to lieutenant of vessel. In 1794 Troude embarked on the Éole under Villaret-Joyeuse and took part in the battle on the 1st of June. In 1795 he took command of the corvette Bergère and he left Rochefort, sailing to Cayenne, Brazil, the Azores, and Guadeloupe over the next few years. In 1796 Troude was promoted to captain of frigate and in 1799 he had returned to France and he joined Ganteaume's fleet aboard the Tyrannicide, which in 1800 was renamed to Desaix. In 1801 Troude served at the combat of Algésiras on July 6th and he then took command of the Formidable on July 8th. On the 13th he served in a combat against four British vessels in the Strait of Gibraltar where he badly damaged HMS Venerable. The following day he was promoted to captain of vessel. In 1803 he commanded the frigate Infatigable in the expedition to Saint-Domingue.
Troude next took command of Suffren and he served under Admiral Missiessy for the next few years, taking part in the crossing to America. In 1805 served he served in the expedition against Dominique and in 1806 he took command of the vessel Courageux. Troude left France with six ships to resupply the Antilles and in 1809 he was blockaded at Îles de Saints by the British. He broke through the blockade and made it back to Cherbourg with two vessels. Troude was promoted to rear admiral in 1811 and he took command of the flotilla of Cherbourg. Troude remained at Cherbourg until April of 1814 when he was sent to England on the ship Lys to retrieve Louis XVIII. He retired from the navy in 1816.

Bibliography
Updated April 2018
© Nathan D. Jensen