General Lubin-Martin Vandermaesen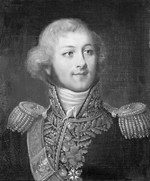 General who served at Mauritius for a number of years and then was killed at Saint-Jean-de-Luz
---
Born: November 11, 1766

Place of Birth: Versailles, Yvelines, France

Died: September 1, 1813

Cause of Death: Mortally wounded

Place of Death: Ascain, France

Arc de Triomphe: VANDERMAESEN on the north pillar
Pronunciation:
The son of a valet, Lubin-Martin Vandermaesen first enlisted in the infantry regiment of Touraine in 1782. After the arrival of the Revolution, Vandermaesen finally became an officer in 1792 when he was promoted to sous-lieutenant. Within a few months he was sent to the Army of the Rhine and promoted to lieutenant. Vandermaesen's next assignment was to organize and instruct two battalions of volunteers of Jura. While working with the men of Jura, he was made major of the 11th Battalion of Jura and then lieutenant colonel of the same battalion in the autumn of 1793. That November Vandermaesen and his men saw action when they fought at Brumpt where he was wounded by a shot to the right thigh.
In 1794 Vandermaesen was promoted by the representatives of the people to the rank of chef de brigade. He continued to serve with the Army of the Rhine for the next few years and in 1796 he joined the 62nd Ligne. Vandermaesen went on to serve at the siege of Kehl in January of 1797, where he was wounded by two shots. In September of 1798 he took command of the 53rd Ligne and served with the Army of Switzerland. The next year Vandermaesen was promoted to général de brigade and employed in the Army of the Danube before he fought at Stockach in March of 1799. Next he took command of a brigade in the Army of Switzerland, and then in September of 1799 he was taken prisoner at Mannheim. Vandermaesen was sent as a prisoner of war to Bohemia and finally exchanged in 1800.
Returning to France in 1801, Vandermaesen did not stay in France for long. In 1802 he was appointed a lieutenant of General Decaen and sent with Decaen to Île de France. Vandermaesen was promoted to général de division in 1803 and named a Knight of the Legion of Honor in 1804. He served at Île-de-France for a number of years, only leaving at the end of 1810 after Decaen was finally forced to surrender the island to the English.
After arriving back in France in 1811, Vandermaesen was put at the disposition of the French forces serving in Spain. Sent to Spain, he was employed in the Army of the North and took command of the 1st Division in January of 1812. In the summer of 1813 Vandermaesen commanded a division under General Clauzel's orders, and at the end of August he was wounded by a shot at Saint-Jean-de-Luz. He was transported to Ascain where he succumbed to his wound the next day.

Bibliography
Updated January 2017
© Nathan D. Jensen