General Jean Baptiste Charles Baurot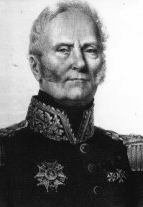 Aide-de-camp to General Mermet who served much of his career in the Spanish Peninsula
---
Born: September 6, 1774

Place of Birth: Thuret, Puy-de-Dôme, France

Died: February 10, 1847

Place of Death: Saint-Germain-en-Laye, France

Arc de Triomphe: BAUROT on the south pillar
Pronunciation:
Volunteering to join the 4th Battalion of Puy-de-Dôme in July of 1793, Jean Baptiste Charles Baurot was elected capitaine only two months later. He served with the Army of Italy and at the end of 1796 he joined the 3rd Chasseurs à Cheval. Baurot next served in the Army of the Rhine and in 1799 he joined the 10th Hussars. In 1802 he was named an aide-de-camp to General Mermet.
Baurot was promoted to chef d'escadrons in 1805 and that year he served with Mermet in Italy. In 1806 and 1807 he served in Prussia and Poland and then in 1808 he was named chief of staff of Mermet's division of II Corps in Spain. In 1810 Baurot became chief of staff of Merle's division, he was named a Baron of the Empire, and he was wounded at the Battle of Bussaco . He served in the Army of Portugal until July of 1813 when he became chief of staff of Conroux's 4th Division in the Army of the Pyrenees. In October of 1813 Baurot seized the redoubt of Sainte-Barbe and in November he served at the combat on the Nivelle. Later that month he was promoted to général de brigade and then in December he was employed in Harispe's 8th Division. In 1814 Baurot first served at the Battle of Orthez in February and then at the Battle of Toulouse in April where he was badly wounded in the right leg. His leg was amputated by the surgeons and he survived and recovered.
After Napoleon's abdication and the Bourbon Restoration, Baurot was named commander of arms at Bayonne by Marshal Suchet. He was also named a Knight of Saint Louis and Commander of the Legion of Honor. Baurot was available during the Hundred Days of 1815 but he did not participate.

Bibliography
Related Pages:
Updated June 2018
© Nathan D. Jensen