General Louis-André Bon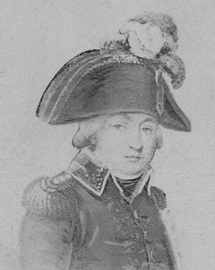 Général de division who was mortally wounded at the siege of Acre
---
Born: October 25, 1758

Place of Birth: Romans, Drôme, France

Died: May 19, 1799

Cause of Death: Mortally wounded

Place of Death: Acre, Syria

Arc de Triomphe: BON on the south pillar
Pronunciation:
Louis-André Bon had already served many years in the army by the time of the Revolution. Initially enlisting in an infantry regiment in 1776, sixteen years later in August of 1792 he was elected a lieutenant colonel of the 1st Battalion of Grenadiers of Drôme. The next year he contributed to the Siege of Toulon and then followed General Dugommier to join the Army of the Eastern Pyrenees where he took command of the 4th Batallion of Chasseurs. After receiving a promotion to chef de brigade in April of 1794, Bon was wounded by two shots at Oms and then fought at Saint-Laurent de la Mouga where he was wounded again. That November he was wounded at the Battle of Montagne Noire and then received a promotion to général de brigade.
During the year 1795 General Bon fought at Sistella and Fluvia before heading to Italy as part of Augereau's division. The next year he took part in the Italian campaign, fighting at Saint-Georges, being wounded at Arcola , and then in early 1797 fighting at Anghiari and La Favorite. Bon next took command of the advance guard of Guieu's division and led them into action at Tagliamento and the fort of Chiusa di Pletz.
Administrative positions followed for Bon until he was designated for the Army of England which eventually became the Army of the Orient. Embarking on the expedition for Egypt, in May of 1798 Bon received a promotion to général de division and then in July he distinguished himself when the French took Alexandria. Later in the same month he fought at the Battle of the Pyramids , where his division seized the enemy camps at Embabeh. After serving as commander of Cairo for a time, he left to take part in the expedition to Syria at the head of his division. On this expedition Bon fought at El Arisch, Jaffa, and Acre before leading his division away from Acre to take part in the battle of Mount Tabor .
Returning to Acre, General Bon led his men on multiple assaults of the fortress. On May 10th, Bon was leading his seventh assault when he was struck by a ball that passed through his groan and out his buttocks. He unfortunately refused treatment for this wound and only managed to live another nine days before finally succumbing to his wounds.1
Notes
Bibliography
Updated February 2015
© Nathan D. Jensen