Laurent Augustin Pelletier de Chambure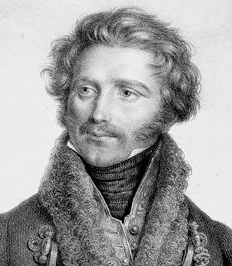 Commander of the Infernal Company that defended Danzig in 1813
---
Born: March 30, 1789

Place of Birth: Vitteaux, Côte-d'Or, France

Died: July 11, 1832

Cause of Death: Illness

Place of Death: Paris, France

Arc de Triomphe: CHAMBURE on the east pillar
Pronunciation:
The son of a postmaster who was guillotined in 1794, Laurent Augustin Lepelletier de Chambure entered the Prytanée military school in Saint-Cyr in 1800 at age eleven. Five years later he studied at the military school of Fontainebleau and then in October of 1806 he was commissioned as a sous-lieutenant. Chambure wasted no time in joining up with his unit, the 34th of the Line, and he served in Prussia and Poland and was wounded. In 1809 he was sent to Spain where he was wounded at the Siege of Saragossa. Later that year he was promoted to lieutenant and he served at the Battle of Ocaña . The next year Chambure became an aide-de-camp to his brother-in-law General Reynaud and he served at the Siege of Ciudad Rodrigo. His next major action came in May of 1811 when he fought at the Battle of Fuentes de Oñoro where his right shoulder was shattered.
Chambure left Spain and took a break from the army, becoming an auditor in the Council of State and the prefect of Mons. In 1812 he returned to the army where he was assigned to XI Corps which was stationed in Germany under Marshal Augereau while the Grande Armée campaigned in Russia. In February of 1813 Chambure was promoted to capitaine and he joined General Rapp's staff. Rapp was in charge of defending Danzig and Chambure served in the defense once the Coalition powers laid siege to it. Chambure soon made a name for himself leading a company of volunteers known as the Infernal Company or the Lost Children in brilliant actions behind enemy lines. Chambure distinguished himself one night by taking a redoubt and spiking the guns. To strike fear in his enemies, before he left he wrote a note to the Russian commander and left it in a spiked cannon. The note read, "Prince, as your shells spoil my sleep, I have had to come and spike your mortars. Do not wake me any more, or I shall be obliged to come and see you again."1 This moment was immortalized by the painter Horace Vernet in the painting La redoute de Kabrunn. In recognition of his contributions, Rapp promoted Chambure to chef de bataillon in December of 1813. At the end of the month they were forced to surrender Danzig and Chambure was taken prisoner.
After returning to France in 1814 after Napoleon's abdication, Chambure became an aide-de-camp to General Reynaud again. When Napoleon left exile and resumed power for the Hundred Days, Chambure rallied to him. Chambure was ordered to organize a French unit with 1000 men and 300 horses in Côte-d'Or and he was given the title of Colonel of Volunteers of Côte-d'Or. After the Hundred Days ended, he was tried in absentia and sentenced to hard labor for allowing his soldiers to capture and rob two British officers. Another trial followed where he was condemned to death for having allegedly shot a peasant of Doubs for wearing the white cockade of the Bourbons during the Hundred Days. Chambure fled to Brussels and remained there until July of 1820 when he received an amnesty. He returned to France and received a pension as a capitaine of the army, and then in 1830 he resumed his military career, working for Marshal Soult.
Notes
Bibliography
External Links:
Updated September 2020
© Nathan D. Jensen