General Jean Rapp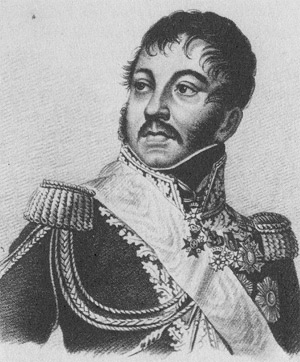 Aide-de-camp to General Desaix and then Napoleon who was known as The Intrepid
---
Born: April 27, 1771

Place of Birth: Colmar, Haut-Rhin, France

Died: November 8, 1821

Cause of Death: Illness

Place of Death: Rheinwiller, Germany

Arc de Triomphe: RAPP on the east pillar
Pronunciation:
Rapp is known for being one of Napoleon's aide-de-camps frequently found in the thick of fighting who earned the nickname "The Intrepid". Coming from a Protestant family, his family originally intended for him to become a pastor, but instead he joined a regiment of chasseurs at age 17. Serving during the Revolution, he was with the Army of the Moselle in 1793 and was wounded by a saber blow to the wrist. In 1794 Rapp was promoted to sous-lieutenant, then joined the Army of the Alps where he was promoted to lieutenant. The next year he joined the Army of the Rhine and fought at Ligenfeld, where he was wounded in the head and left arm by several saber blows. December of 1796 saw Rapp being wounded yet again, this time by a shot to the right knee at Kehl. Shortly thereafter he became Desaix's aide-de-camp, a move which would greatly affect the future of his career.
After serving in Germany in 1797 and being promoted to captain, Rapp followed Desaix to Egypt to continue as Desaix's aide. In October of 1798 he took part in the Battle of Sediman, seizing the enemy artillery and receiving a promotion to chef d'escadrons for his performance. In January of 1799 he fought at Girgeh and Samanhoud, this time wounded by a saber blow to the left shoulder. By now General Bonaparte had noticed him, and promoted him to chef de brigade in February. After Napoleon's departure to France, Rapp continued to serve as Desaix's aide-de-camp and returned to France with him, finally arriving in May of 1800. Continuing with Desaix, he fought at Marengo and was with Desaix when Desaix was killed. The next day, both Rapp and Savary were appointed aide-de-camps to Napoleon.
Later that year, Rapp was accompanying Josephine, Hortense, and Caroline Bonaparte to the opera on the failed Christmas Eve assassination attempt. As the procession of carriages traveled to the Opera, a wagon of gunpowder exploded, and while many were hurt and killed, Napoleon and his officers escaped unscathed, and Rapp's carriage escaped with only Hortense being mildly wounded.1
The next year, Rapp was placed in charge of organizing and commanding a squadron of Mamelukes of the Guard. In 1803 he was promoted to général de brigade and later stood for election for the department of Haut-Rhin but was not elected.
With war brewing in 1805, General Rapp was placed in charge of the 2nd Grenadiers à Cheval before returning as one of Napoleon's aides. In the midst of the Battle of Austerlitz, Rapp was sent to lead some cavalry of the Imperial Guard, including the splendid Mamelukes of the Guard, in a charge against the Russians. This successful charge broke the Russian Imperial Guard, and Rapp personally took the Russian Prince Repnine prisoner, while one of his mamelukes almost caught Grand Duke Constantine, Tsar Alexander's brother. Rapp, covered in both his own and his enemies' blood and leading his prisoner, returned to the Emperor, who commented on Rapp's amazing ability to attract wounds. Rapp replied that it was not surprising he was always wounded as they were always fighting. This scene of Rapp's return to Napoleon with the prisoners was later immortalized by Gérard's painting of the battle. In recognition of his accomplishments, Rapp was promoted to général de division on Christmas Eve.
In 1806, Rapp filled administrative positions until the Prussian campaign began, and then he rejoined the Emperor. While serving as an aide, he fought at Schleiz and Jena in October, then in December at Nasielsk and then Golymin where a ball smashed his left arm. In Februay of 1807 he was appointed Governor of Thorn, and then in June Governor of Danzig. At the end of the year Rapp was rewarded by being made a Knight of the Iron Crown. More rewards followed, including the grand crosses of the Order of the Lion, the Order of Military Merit of Maximilien Joseph of Bavaria, and the Order of Fidelity of Baden.
Made a Count of the Empire in 1809, he joined Napoleon for the Danube campaign. At Aspern-Essling , Rapp was ordered to take some of the Imperial Guard and reinforce Aspern, while General Mouton was to take other units of the Guard and reinforce Essling. Seeing the size of the enemy force moving to attack Essling, Rapp rushed to Mouton to try and convince him to charge together against the approaching Austrians, even when it was in direct defiance of Napoleon's orders. Rapp told Mouton, "Let's charge them with the bayonet. If we pull it off, we'll both get credit. If we fail, I'll take the blame." Mouton agreed, and the combined forces of their units successfully charged and drove off the enemy attack, enabling the French to hold out for a while longer. Napoleon, generally upset when his orders were disobeyed, especially when dealing with his favorite unit the Imperial Guard, commended Rapp on his quick thinking that had been the right decision.
Three days before the Battle of Wagram , Rapp's carriage overturned, causing him three broken ribs and a dislocated shoulder in addition to putting him out of action for the battle. Later in 1809, a young German tried to push his way through a crowd to have an audience with the Emperor. Rapp stopped him and questioned him as to why he wished to get so close to the Emperor, and unsatisfied with the answer, had a guard remove the young man. Not long after, Rapp turned around to find the young man approaching Napoleon from the other side and reaching inside his coat for a petition. Annoyed for he had already denied the man an audience, Rapp moved swiftly and seized the man, asking him, "What do you want?" As the man acted suspicious, Rapp ordered more guards to seize him and search him, and they found a knife hidden in his papers that he had intended to kill Napoleon with. Rapp had barely averted an assassination attempt on Napoleon's life.2
The next year, Rapp fell into disfavor for his outspoken disapproval of Napoleon's divorce from Josephine. Regardless, in 1812 he again served as Napoleon's aide-de-camp for the Russian campaign where he once again saw plenty of action. After fighting at Smolensk , he fought at Borodino, taking command of Compans' division after Compans was wounded, and then receiving his own wounds, three grazing shots and a shot to his left hip. Despite the wounds, during the retreat he fought at Gorodnia, Krasnoe, and the Berezina.
In January of 1813, Rapp fortified Danzig and replaced Macdonald as the commander of X Corps at Danzig. He went on to receive the Grand Cross of the Order of the Reunion, and held Danzig for months against besieging forces. When he finally surrendered Danzig in November, he did so on the condition that he and his troops would be allowed to return safely to France, but the Allies broke the agreement and took him prisoner, sending him to the Ukraine.
Released in July of 1814, he returned to France and was given the Grand Cross of the Legion of Honor. The next year, he rallied to Napoleon and took command of the quickly formed Army of the Rhine. Napoleon named him a Peer of France, and his forces successfully repulsed the enemy at Suffel, but Napoleon's second abdication brought an end to his military career. Put on non-activity and threatened by royalists, he retired to his chateau, but eventually reconciled with the new government. He died of stomach cancer in November of 1821, six months after the death of Napoleon.
Notes
Louis Constant Wairy, Memoirs of Constant: First Valet de Chambre of the Emperor, On the Private Life of Napoleon, His Family, and His Court, trans. Elizabeth G. Martin, (New York: Charles Scribner's Sons, 1895), I:82-84.
Ibid., III:35-39.
Bibliography
Related Pages:
External Links:
Updated January 2017
© Nathan D. Jensen