General Jean-Dominique Compans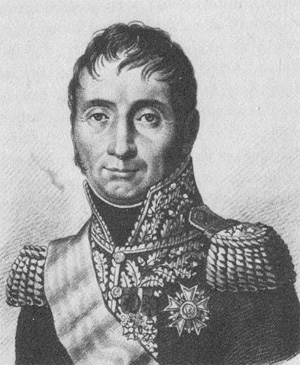 Chief of staff to Marshals Lannes, Soult, and Davout
---
Born: June 26, 1769

Place of Birth: Salies-du-Salat, Haute-Garonne, France

Died: November 10, 1845

Place of Death: Blagnac, France

Arc de Triomphe: COMPANS on the east pillar
Like many French soldiers of the time, Jean-Dominique Compans began his military career by volunteering during the Revolution. After being elected capitaine of the 3rd Battalion of Volunteers of Haute-Garonne in October of 1791, the next year he served with the Army of the Alps and then in 1793 he was sent to the Army of Italy. During this time he helped to defend the camp of Braous, took part in the attack of Lantosca, and then served during the Siege of Toulon . The next year Compans joined the staff of General Dugommier and he served in the Army of the Eastern Pyrenees. With this army he served at Boulou, Junquera, and Montagne Noire . In June of 1795 he was promoted to chef de brigade, and once peace was signed with Spain he was then given an administrative position in the 9th military division.
In August of 1798 Compans became chief of staff to General Grenier in the Army of Italy. The next year he distinguished himself in multiple combats, including the fighting at Vaprio, Pacetto, and San Giuliano. For his accomplishments he was promoted to général de brigade and then in September he took command of Grenier's division when Grenier took command of an entire wing of the army. With his new command, Compans seized Fossano and Savigliano before being placed in charge of the advance guard. That November he led the advance guard into action at Morozzo, the bridge of Borghetto, San Dalmazzo, de Robillante, and Verante. By this time Compans had gained such a reputation in Italy for discipline of his troops that if he got lost and accidentally walked into a Barbet insurgent camp, the insurgents would escort him back to a French outpost. Further enhancing his reputation, that year some of his soldiers refused to march due to their lack of boots and Compans convinced them otherwise by taking off his own boots and leading by example.1
In April of 1800 General Compans was still serving in Italy, now under Suchet in Pouget's division. After failing in the attack of Mont Settépani, he attacked again two days later and successfully seized it. On April 20, he was wounded by a shot during an attack on San Giacomo. That December Compans served in Loison's division and he fought at Volta, Monzembano, Villafrance, Montebello, and Spaziano. During the years of peace that followed, Compans was employed in the 27th military division before he was assigned to staff work at the camp of Saint-Omer.
With war brewing in 1805, Compans was named chief of staff to Marshal Lannes' V Corps. He participated throughout the campaign that year and served at its conclusion at the Battle of Austerlitz where he was wounded. A few weeks later he took command of Thiébault's brigade in IV Corps. In 1806 he was appointed chief of staff to Marshal Soult's IV Corps and he took part in the campaign against Prussia. After fighting at the Battle of Jena, a month later he was promoted to général de division.
General Compans was named a Count of the Empire in 1808 and he then became the chief of staff to Marshal Davout's Army of Germany. During the Danube campaign the following year, he distinguished himself at Tengen and also fought at Schierling. While Davout was absent from February of 1810 to February of 1811, Compans served as interim commander of the Army of Germany.
For the Russian campaign of 1812, Compans commanded the 5th Division of Davout's I Corps. He fought at Mohilew and Smolensk before being wounded by a shot to the shoulder at Borodino. While serving during the retreat, he fought at Maloyaroslavetz and Wiazma. During the campaigns of 1813 in Germany, he commanded the 20th Infantry Division of Marshal Marmont's VI Corps, fighting at Lützen, Bautzen, and Leipzig . Continuing to serve during the defense of France of 1814, in March of 1814 he fought at Sézanne, was defeated at Chailly, defended Meaux, and won a victory at Montsaigle before taking part in the defense of Paris.
After Napoleon's abdication in April of 1814, the Bourbons rewarded Compans with a Grand Cross of the Legion of Honor. Nevertheless, upon Napoleon's return to power in 1815 for the Hundred Days, Compans submitted to Napoleon's rule and was named commander of the 6th Infantry Division of II Corps of the Army of the North. Compans however refused the command and was allowed to retire. After Napoleon's second abdication, his retirement was reversed, but the Bourbons temporarily put him on non-activity. Named a Peer of France, he participated in the trial of Marshal Ney where he voted for death.
Notes
Bibliography
Updated January 2016
© Nathan D. Jensen