General Jean Baptiste Dalesme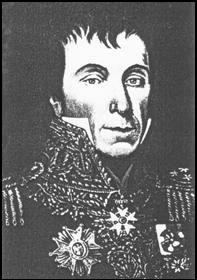 Général de brigade who served in the Corps Législatif and commanded the isle of Elba
---
Born: June 20, 1763

Place of Birth: Limoges, Haute-Vienne, France

Died: April 13, 1832

Place of Death: Paris, France

Arc de Triomphe: DALESME on the north pillar
Pronunciation:
Volunteering to join the infantry regiment of Rouergue in 1780, Jean Baptiste Dalesme served in Spain in 1782 and 1783. He left the army in 1788 but after the onset of the Revolution he became a lieutenant colonel of the 1st Battalion of Haute-Vienne in October of 1791. Dalesme served in the Army of the North in 1792 and 1793 and he was taken prisoner at the surrender of Quesnoy in September of 1793. Despite being taken prisoner and absent, two days later he was promoted to général de brigade. Dalesme was finally released in 1795 and he was employed with the Army of the Sambre and Meuse. In March of 1796 he joined Grenier's division and then that September he was wounded at Giessen. Dalesme was sent to the Army of Italy in 1798 and he served in Delmas' division. Dalesme would see heavy fighting in the spring of 1799, for he was wounded by a shot to the kidney at Pastrengo and barely more than a week later he was wounded by a shot to the thigh at Magnano. At the end of April Dalesme was taken prisoner and he wasn't released until June of 1800. Upon release, he began serving in the 14th military division.
In 1802 Dalesme was elected a deputy of Haute-Vienne to Corps Légasltif. Dalesme served in this position until 1809, though in 1807 he was given a position with the national Guard. With Austria preparing to attack France and her allies in 1809, Dalesme returned to military service, taking command of the 2nd brigade of Carra Saint-Cyr's division. He served throughout the Danube campaign and was wounded in combat on the Danube on June 22, 1809. The next year Dalesme was employed in the 29th military division and named a Baron of the Empire. In October of 1810 he was named commander of the isle of Elba where he would remain until Napoleon's abdication in 1814.
After Napoleon's abdication in April of 1814, Dalesme quit his command and returned to France where he was named a Knight of Saint Louis but put on non-activity. In 1815 when Napoleon returned from exile on Elba to resume power for the Hundred Days, he sent Dalesme back to Elba to command the island until the Second Restoration of the Bourbons. Afterwards, Dalesme was forcibly retired.

Bibliography
Updated March 2017
© Nathan D. Jensen