General Claude Carra Saint-Cyr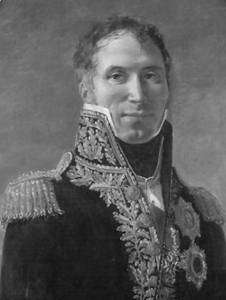 Général de division who distinguished himself at Aspern-Essling
---
Born: July 28, 1760

Place of Birth: Lyon, Rhône, France

Died: January 5, 1834

Place of Death: Vailly-sur-Aisne, France

Arc de Triomphe: CARRA S

T

CYR on the east pillar
Pronunciation:
The son of an equerry, Claude Carra Saint-Cyr first joined the army as a sous-lieutenant in 1774 at age thirteen. His first major military experience came years later when he traveled to America with the French Army to take part in the American Revolutionary War where he was promoted to lieutenant. In 1784 he returned to France and then in 1785 he received a promotion to capitaine. Carra St. Cyr bounced around various staff appointments for the next many years, and in March of 1792 he obtained a pension and quit the military due to his health. But France was in need of good soldiers, and in January of 1793 he volunteered to join the 2nd Battalion of Rhône-et-Loire.
Seven months after rejoining the army Carra St. Cyr became an aide-de-camp to General Aubert-Dubayet, and with Aubert-Dubayet he served in the Army of the Coasts of Brest. 1795 was a year of promotions for Carra St. Cyr when he was promoted to chef de bataillon in March, chef de brigade in June, and finally général de brigade in October. In 1796 General Aubert-Dubayet became the ambassador to the Ottoman Empire, and as his aide Carra St. Cyr accompanied him to Turkey. That October Carra St. Cyr also served as Consul General of France in Wallachia, and then when Aubert-Dubayet died that December Carra St. Cyr took over his duties as ambassador. Carra St. Cyr continued to serve as ambassador to the Ottoman Empire until the summer of 1798 when he returned to France with Aubert-Dubayet's widow.
In February of 1799 General Carra St. Cyr joined the Army of Italy and during the fighting that year he was wounded by a ball to the thigh. That November he married Aubert-Dubayet's widow and then he was named to a commission ordered to examine the veterans institution. In 1800 he was given command of a brigade in Monnier's division in the Army of the Reserve, and late in May he became commander at Ivrée. He rejoined the main body of the army on the 12th of June and then took part in the Battle of Marengo a few days later. Carra St. Cyr stayed with the Army of Italy, taking command of the 3rd Division in July and then battling the Austrians on the banks of the Magra. In October he fought at Arezzo and then in December at Pozzolo.
In 1802 Carra St. Cyr took command of the infantry of the 1st military division and then the following year he was promoted to général de division and given command of the 2nd Division at the camp of Bayonne. In 1805 as the campaign began against the Third Coalition and the Grande Armée marched east, Carra St. Cyr took command of the coast of Gravelines. Next in late 1806 he became governor of Magdeburg but then in February of 1807 he took command of the 2nd Division of Marshal Soult's IV Corps. Later that year he was rewarded as a Grand Officer of the Legion of Honor.
1808 saw Carra St. Cyr created a Baron of the Empire and then being ordered to the Rhine with his divisions. When the Austrians attacked the next year, his division became part of Marshal Masséna's IV Corps. During that campaign he fought at the Battle of Aspern-Essling where he distinguished himself. After the campaign he was briefly named Governor of Dresden before commanding a division in VIII Corps and then returning to France. For the first half of 1810 Carra St. Cyr served in Illyria before returning to France and then becoming Governor of Hamburg, where he remained until 1813.
In 1813 Carra St. Cyr took command of the 1st Division of the Corps of Observation of the Elbe and then in March he evacuated Hamburg. On the 21st of March, he and his men were beaten near the Elbe and forced to retreat. Napoleon was disappointed by his actions, but nevertheless re-employed him in command of a division under General Vandamme. That October Carra St. Cyr defended the Ems River, and then in December he took command of the 3rd Division of I Corps. In February of 1814 he became commander of Valenciennes, Bouchain, and Condé.
After Napoleon's abdication in April of 1814, Carra St. Cyr became a count and Knight of St. Louis. He was also named commander of French Guiana but he did not take up the post at the time, and when Napoleon returned from exile in 1815 for the Hundred Days Carra St. Cyr was still in France. However, Carra St. Cyr did not take an active part during the Hundred Days.

Bibliography
Updated April 2019
© Nathan D. Jensen