General Dominique Joseph René Vandamme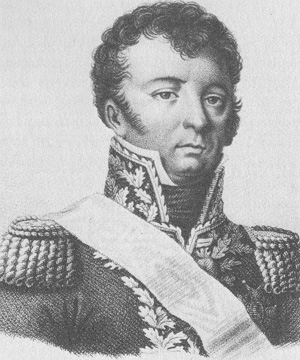 Temperamental général de division who frequently commanded German troops
---
Born: November 5, 1770

Place of Birth: Cassel, Nord, France

Died: July 15, 1830

Place of Death: Cassel, France

Arc de Triomphe: VANDAMME on the north pillar
Pronunciation:
Dominique Vandamme was a controversial figure in the French military, making enemies left and right due to his irascible nature, but nevertheless rising in rank due to his impressive fighting abilities, fearlessness, and loyalty. He and Napoleon had a unique relationship with each having famous quotes about the other. Vandamme once said of Napoleon, "So it is that I who fear neither God nor the Devil, tremble like a child when I approach him."1 At another time Napoleon remarked that had he had two Vandammes, he would have had to order one to hang the other.2
Beginnings
Vandamme's family must have had an inkling of where he would fit in, for they enlisted him as a soldier in the 4th Auxiliary Battalion of Colonies in 1788. He was sent to Martinique the next year, but with the French Revolution gaining momentum back in France, he deserted in 1790 to return to France. Upon his return he lost his rank of sergeant that he had earned but he joined the regiment of Brie. By September of 1792 he was making his mark as captain of a company that called themselves the Chasseurs of Vandamme.
After serving in Belgium and Holland in 1793 Vandamme was directed to organize a Battalion of Chasseurs of Mont Cassel, and once it was formed, he was given command of it as a lieutenant-colonel. Vandamme led his battalion into action, leading the advance guard at the Battle of Hondschoote and then taking the city of Veurne. A promotion to général de brigade followed and then in October he replaced Souham in command of Dunkirk. In this position he retook Veurne and then laid siege to Nieuport, but he was forced to lift the siege and then replaced. He finished the year out by leading a brigade of Ferrand's division at Poperinge.
In 1794 Vandamme joined Moreau's division at the camp of Cassel in April. He continued to serve in combat, fighting at Menin, Courtrai, and Tourcoing . That June he covered the Siege of Ypres and then occupied Bruges and Ostend. In July Vandamme served at the Siege of Nieuport and for a time he directed the siege, and then during that autumn he took part in the Siege of Venloo and seized the bridge at Buderich.
Campaigns of 1795 - 1800
In April of 1795 Vandamme was ordered to return to Paris by the Committee of Public Safety. That June he was ordered to lead a reinforcement unit to the Army of the Sambre and Meuse, but less than a week had passed before he was removed from that command for his comments on the countries conquered by the French Republic. Removed from command, Vandamme retired to his home in Cassel until the end of September when he was sent to the Army of the West.
November of 1795 saw Vandamme transferred to the Army of the Rhine and Moselle. In May of 1796 he was given a position in Duhesme's 7th Division and then in August he fought at Friedberg. That November he fought in the defense of Kehl and then in April of the next year he commanded the advance guard for the crossing of the Rhine at Kehl. Designated for the Army of England, Vandamme instead became commander at Cherbourg in April of 1798 and then in September he joined the Army of Mainz.
In February of 1799, Vandamme was finally promoted to général de division. He took command of a division of the Army of the Danube under Gouvion St. Cyr and he served at Stockach in March. He continued to command a division over the next two months, but then quit his command on May 14th due to the accusations leveled against him. Vandamme was accused of imposing contributions from the citizens of Wurtemberg for his own personal profit and tolerating the misappropriations of others under his command. The case was transferred to be judged by a council of war, and he returned to Paris to defend himself, but the council of war never met.
Free from his accusations, in September Vandamme was sent to the Army of Holland to command the 1st Division under General Brune. After arriving, he fought at Zyp and distinguished himself at Bergen before going on to fight at Alkmaar and Castricum . The next month he delivered the results of the convention of Alkmaar to the Directory of the Batavian Republic.
Vandamme next went on leave and returned home to Cassel, remaining there until recalled in January of 1800 to join the Army of the Rhine. That May he seized the fort of Hohentwiel, distinguished himself at Stockach, and fought at Messkirch and Memmingen before returning to France to answer questions about administrative irregularities. In September he took command of the advance guard of a second Army of the Reserve being formed. Once peace was achieved, he took command of the 16th military division at Lille.
Campaigns of 1805 - 1809
At the end of August of 1803 Vandamme took command of the 2nd Division at the camp of Saint-Omer. Two years later, when the Grande Armée marched east to confront the Third Coalition, his division would become the 2nd Division of Marshal Soult's IV Corps. During the campaign of 1805, he seized the bridge at Donauworth in October and then in December his division stormed the Pratzen Heights in the center of the Allied line at the Battle of Austerlitz. In recognition of his contributions to that victory, he was awarded the Grand Eagle of the Legion of Honor.
During the summer of 1806, General Vandamme was replaced in his command due to disagreements with his commander, Marshal Soult. That October he was given a new command, the 3rd Division of Marshal Ney's VI Corps. Vandamme served at Magdeburg and then took command of a Wurtemberg division and directed the Siege of Glogau, accepting its surrender in December. In the meantime he was also appointed deputy commander of IX Corps, with the overall commander being Jérôme Bonaparte. Laying siege to Breslau, he fought off an attempt to relieve the city and took it. Continuing sieges, he laid siege to and took Schweidnitz after a month, and then spent four months laying siege to Neisse. Next he laid siege to Glatz, but lifted it once the Treaty of Tilsit was signed.
During the intervening peace, Vandamme first returned to command the 16th military division, and then later the camp of Boulogne. He received awards including the Grand Cross of the Military Order of Wurtemberg and then he became a Count of the Empire, Count of Unsebourg. With war with Austria looming on the horizon in 1809, Vandamme took command of the I Corps of Wurtemberg, which was later renamed to the VIII Corps of the Grande Armée. In April he led his troops into action at Abensberg, Landshut, and Eckmühl, and then he chased the Austrians to Linz before being halted. In July he fought at the Battle of Wagram where he was wounded. After Napoleon elevated Oudinot, Macdonald, and Marmont to the marshalate, Vandamme was furious at Napoleon for not being included. He exclaimed that Napoleon was a coward and a liar and had it not been for Vandamme, Napoleon would still be keeping pigs in Corsica.3 Needless to say, many considered Vandamme's bad temper and unruly behavior the very reason he was not created a marshal.
Campaigns of 1812 - 1815
In early 1810 Vandamme was again named commander of the camp of Boulogne. For the next two years he commanded various positions along the coast. Then in 1812, with the campaign against Russia looming, he was made deputy commander of the VIII Corps of Westphalians under Jérôme Bonaparte. However, that July he was relieved by his commander for accusations of armed robbery and looting, and he returned to France.
Vandamme was not employed again until March of 1813 when he was ordered to go to Wesel and take command of two divisions. That May he seized the isle of Wilhelmsburg near Hamburg, but then he was forced by the enemy to evacuate it. In July he took command of I Corps and in August seized Pirna and fought at the Battle of Kulm. Despite his best efforts, he was captured at Kulm and dragged before Tsar Alexander of Russia and his brother Grand Duke Constantine. Constantine allegedly stripped Vandamme's sword away from him, a bad breach of chivalry and honor. Then Alexander accused Vandamme of looting, to which Vandamme replied, "At least I haven't been accused of killing my father," referring to the fact that Alexander was rumored to have been involved in the death of his father to seize the Russian throne.4 He was transported to Toeplitz and then Moscow, and finally released and returned to France in July of 1814.
Put on non-activity in September, Vandamme then further ruined his relationship with the Bourbon king by refusing an audience with him, but the feeling was mutual for the Bourbons were horrified by his reputation. For that breach, he was exiled to his home in Cassel until Napoleon's return in 1815. Napoleon placed Vandamme in charge of III Corps of the Army of the North and made him a Peer of France. At first Vandamme refused to follow Marshal Soult's orders until Napoleon ordered him to.5 Serving under Marshal Grouchy in the right wing, Vandamme fought at Ligny on June 16th, and then on June 18th he fought at Wavre. On that day Vandamme was not present at the famous argument between Marshal Grouchy and General Gérard on whether to march the right wing of the army to the sound of the guns at Waterloo.6
The next day Vandamme was given command of both III and IV Corps and then the day after that he was wounded at the combat of Namur. He continued to fight rearguard actions as the army fell back to Paris. The returning Bourbons exiled Vandamme from Paris, and he lived in his hometown of Cassel until January of 1816, when he was exiled from all of France. For a time he went to live in Ghent, Belgium, until four months later when he was expelled from there and he therefore traveled to the United States. In 1819, he returned to Ghent, and at the end of the year was finally allowed to return to France.
Notes
Bibliography
Related Pages:
External Links:
Updated March 2022
© Nathan D. Jensen