General Jean-Charles Monnier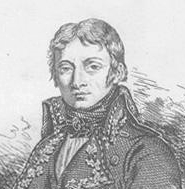 Général de division who spent his career in Italy until 1802 when he was removed from command
---
Born: March 22, 1758

Place of Birth: Cavillon, Vaucluse, France

Died: January 30, 1816

Place of Death: Paris, France

Arc de Triomphe: MONIER on the south pillar
Jean-Charles Monnier first joined the French army during the summer of 1792 as a sous-lieutenant in the 7th Infantry Regiment. A year later he had been promoted to chef de bataillon and was serving in La Poype's division. In 1794 Monnier was with the Army of Italy, serving as chief of staff to Masséna's division and distinguishing himself at Saorgio. Monnier was promoted to chef de brigade in 1795 and that year he also served at Loano.
Still with the Army of Italy, in March of 1796 Monnier became chief of staff to Meynier's division. That April he fought at Dego and a month later he was promoted to général de brigade by General Bonaparte. The next week he joined Masséna's division and then in May fought at Lodi . In 1797 he fought at Rivoli and then served during the crossing of the Tagliamento and the action at Gradisca. Later that year Monnier took command of a brigade of Joubert's division and then became commander of Ancona.
1798 saw General Monnier designated for the Army of England, but instead he joined the Army of Rome, and in December seized Civita del Trono, fought at Pescara, and seized Isernia. The next month he was wounded by a ball to the right shoulder in the attack on Naples. From May to December of 1799 General Monnier held Ancona with a force of three thousand men, but he finally surrendered honorably and returned to France.
Back in France, Monnier was promoted to général de division then given command of the 6th Division of the Army of the Reserve. His division served as part of General Victor's corps and took part in the crossing of the Tessin at Turbigo and fighting at Milan. When General Desaix rejoined the army, Monnier's division was transferred under Desaix and fought at the Battle of Marengo. Monnier continued to serve in Italy and was made commander of Bologna and then Tuscany that October. That December he led men into battle at Pozzolo and then in January they took Verona. Next he commanded a division in the Army of the South that returned to Ancona.
Monnier's career next took a different turn. For being openly hostile to Napoleon, he was not given any more commands. He finally retired in 1811, only to return to the army after the Bourbon Restoration. The Bourbons rewarded him as a Commander of the Legion of Honor, and when Napoleon escaped from exile on Elba, Monnier was given a command to stop Napoleon. After a brief fight at Loriol, he occupied Romans, but when Napoleon regained power in Paris, Napoleon stripped him of his rank. After the Hundred Days, Monnier was created a Peer of France by the returning Bourbons and he voted for death at the trial of Marshal Ney.

Bibliography
Updated June 2016
© Nathan D. Jensen