Admiral Denis Decrès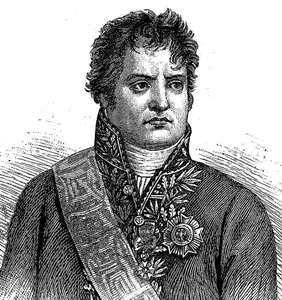 Minister of Marine throughout Napoleon's reign
---
Born: June 18, 1761

Place of Birth: Château-Vilain, Haute-Marne, France

Died: December 7, 1820

Cause of Death: Assassinated

Place of Death: Paris, France

Arc de Triomphe: DECRES on the west pillar
Pronunciation:
Initially joining the navy as a garde de la marine, Denis Decrès entered the service in 1779 at age seventeen. The next year he joined the crew of the frigate Richemond which became part of the Count de Grasse's fleet in the Caribbean and fought the British during the American Revolutionary War. Decrès served at all the major battles with the fleet, notably at the Battle of the Saintes in 1782. That year he was also promoted to ensign of vessel and then the next year he served on the frigate Nymphe and took part in the short-lived capture of the British ship HMS Argo. Dècres continued to serve in the Caribbean and off the coast of America until 1789 when he returned to France.
By this time Dècres had risen to the rank of lieutenant of vessel but he did not remain in France for long. Dècres set sail in 1790 on Victoire and then transferred to Eole. In January of 1793 he received a promotion to captain of vessel and was then given command of the frigate Cybèle in the East Indies. The next month Dècres successfully retook a French post that had been taken by the Marathas. Later that year Admiral Saint-Félix decided to send Dècres back to France to explain the situation and ask for further help. On the way Dècres stopped at Île de France and he then left on a different ship, finally arriving back in France in April of 1794 at Lorient. After leaving his ship, he was immediately arrested for being a noble and taken to Paris. However, once in Paris the accusations against him were dropped and he was released but forced into retirement.
In June of 1795, with a different government now in power in Paris, Dècres was reintegrated into the navy with his former rank. That October he took command of Formidable and sailed from Toulon to Brest before taking part in the expedition to Ireland in 1796.
1798 was a very notable year in Dècres' career. After being promoted to rear admiral, Dècres took command of a squadron of Admiral Brueys' fleet that carried the expedition to Egypt commanded by General Bonaparte. When the fleet stopped at Malta, Dècres and his ships protected the disembarkment of the troops. They continued on to Egypt and Dècres served aboard Diane during the disastrous Battle of the Nile . Seeing the battle was lost, Dècres ordered his ship to flee and he and a few others managed to escape and retreat to Malta.
Staying in Malta, Admiral Dècres was ordered to help defend the island and he took command of the advance posts. After the British had blockaded the island, in March of 1800 Dècres took command of the vessel Guillaume Tell and loaded it with wounded and soldiers desperate to return to France. General Vaubois ordered him to try and break out of the blockade and carry a message to France about their low odds of holding the island without help. Dècres' ship attempted to break free but was caught by three British ships and a fierce fight ensued. Eventually, his ship was so badly damaged he had no choice but to surrender and he was taken prisoner.
After being transported as a prisoner to Port Mahon, Admiral Dècres was released to return to France in March of 1801. When he arrived back in Paris, First Consul Bonaparte presented Dècres with a saber of honor and and a naval watch in recognition of his battles and services. That October, Napoleon appointed Dècres Minister of Marine, a position he would hold until Napoleon's abdication in 1814. Rewards flowed throughout the years for Dècres, for in 1804 he was promoted to vice admiral, in 1805 he received the Grand Eagle of the Legion of Honor, in 1808 he became a Count of the Empire, and in 1813 he became a Duke of the Empire. Also in 1813, Dècres married Marie-Rose Rosine Clary of the famous Clary family. His wife had previously been married to General Saligny until Saligny's death in 1809, and through this marriage Dècres became a nephew of both Marshal Bernadotte and Joseph Bonaparte and a brother-in-law to Marshal Suchet.
After Napoleon's abdication in 1814, the restored Bourbons made Dècres a Knight of Saint Louis but also forcibly retired him. When Napoleon resumed power in 1815 for the Hundred Days, he again appointed Dècres to be Minister of Marine and also named him a Peer of France. After Napoleon's second abdication, the Bourbons predictably retired Dècres again.
Dècres' end came in 1820 when his valet secretly laid gunpowder under his bed and caused an explosion, hoping to kill him. Dècres somehow managed to survive the blast, and when his valet investigated his handiwork and found Dècres alive, he threw himself out the window. Despite surviving the initial blast, Dècres succumbed to his wounds a few weeks later.

Bibliography
Related Pages:
Updated January 2017
© Nathan D. Jensen