General Christophe Henrion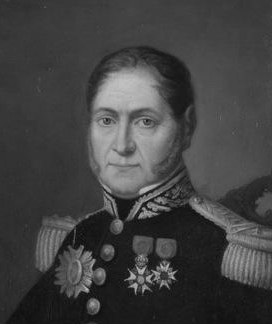 Aide-de-camp to Pauline Bonaparte's husband Camillo Borghese who later commanded the 4th Chasseurs à Pied at Waterloo
---
Born: November 4, 1772

Place of Birth: Villecloye, Meuse, France

Died: November 2, 1850

Place of Death: Montmédy, France


Pronunciation:
Enlisting in the 17th Battalion of light infantry in January of 1793, Christophe Henrion first served with the Army of the Ardennes. In 1794 he joined the Army of the Moselle and that August he was commissioned as a sous-lieutenant. In April of 1796 Henrion joined the 25th Light in the Army of the Sambre and Meuse and in 1797 he was promoted to lieutenant. Next he served with the Army of Germany, then the Army of Mainz, and finally the Army of the Danube. In 1800 Henrion served under Masséna in Liguria and during the siege of Genoa he served at the combat of the mountain of Hermette and at Saint-Pierre-d'Arena in April. A month later he was promoted to capitaine.
In 1803 Henrion began serving in the camp of Montreuil and then in 1805 when the campaign against the Third Coalition began he served with the 1st Chasseurs à Pied of the Imperial Guard. Henrion served with the Grande Armée in the campaigns of 1805, 1806, and 1807 and in 1808 he was promoted to chef de bataillon and named an aide-de-camp to Prince Camillo Borghese, the husband of Pauline Bonaparte.
Henrion did not see action with the army for a number of years but in 1813 he was appointed a major and he joined VI Corps in Saxony. He fought at the Battle of Lützen in May where he was wounded by a ball to the left shoulder. In July Henrion was named colonel-major of the 9th Voltigeurs of the Young Guard and in August he began serving in Combelle's brigade of Delaborde's division. Later that month he served at the Battle of Dresden where he was wounded by grapeshot to the side. In December Henrion was promoted to général de brigade and then in January of 1814 he was named a Baron of the Empire. He continued to serve with the Young Guard and in March he served at Arcis-sur-Aube.
After Napoleon's abdication, the restored Bourbons put Henrion on non-activity but also named him a Knight of Saint Louis. Napoleon returned from exile in 1815 for the Hundred Days and he named Henrion the major commanding the 4th Chasseurs à Pied of the Old Guard. Henrion led the regiment that June on the campaign in Belgium and he fought at Waterloo where he was wounded by a shot to the left side. Afterwards he joined the Army of the Loire but then in September he was arrested at Bourganeuf by soldiers who had not been paid. Before long Henrion was dismissed, sent home, and put on non-activity. He officially retired from the army in 1824 but then in 1831 he resumed his military career for a few years after the change in government.

Bibliography
Updated March 2023
© Nathan D. Jensen