Admiral Charles-Alexandre-Léon Durand de Linois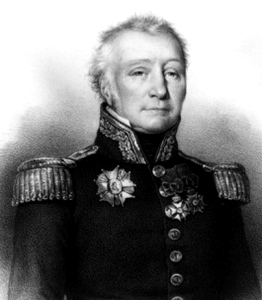 French admiral who wreaked havoc on British merchants in the Indian Ocean from 1803 to 1805
---
Born: January 27, 1761

Place of Birth: Brest, Finistère, France

Died: December 2, 1848

Place of Death: Versailles, France

Arc de Triomphe: LINOIS on the west pillar
Pronunciation:
After joining the navy in 1776, Charles-Alexandre-Léon Durand de Linois served in Admiral d'Orvilliers squadron in 1778 and then went on to serve in the American Revolutionary War. During that war he was promoted to lieutenant of frigate for the duration of the campaign and he again served under Admiral d'Orvilliers. In 1781 Linois served in Spain and was promoted to ensign of vessel. Later in the 1780s he was sent to Île de France, the Windward Isles, and Saint-Domingue.
Just before the French Revolution, Linois was promoted to lieutenant of vessel in May of 1789. In 1791 Linois took command of the frigate Atalante and he was then sent to make a campaign in the Indian Ocean. He served in the Indian Ocean for the next three years until 1794 when he returned to France. Linois was next ordered by Admiral Villaret-Joyeuse to sail the Atlantic Ocean and verify the important convoy of grain was coming from America. During his journey he was forced into a battle with the British ship HMS Swiftsure and he had to surrender. Taken as a prisoner to England, Linois was exchanged in January of 1795 and he returned to France in March of 1795.
Back in France, Linois was promoted to captain of vessel and the promotion was backdated to 1794. Linois was then given command of the ship Formidable in Villaret-Joyeuse's squadron. In June of 1795 he took part in the naval combat of Groix where he lost his left eye and was again taken prisoner. This time Linois did not remain a prisoner for long, being exchanged only two months later in August. At the end of the year Linois took command of the ship Nestor which he commanded for the next two years. In December of 1796 he took part in the failed expedition to Ireland, reaching Bantry Bay but then returning to Brest without disembarking the troops. Linois next took command of Jean-Jacques-Rousseau in 1798 and then in 1799 he was named commander of the naval forces of Brest. Minister of Marine Bruix then promoted Linois to rear admiral.
Admiral Linois was next sent to the Mediterranean Sea where he was named chief of staff of the navy and deputy commander. In 1801 he took part in the siege of Porto Ferrajo and then he traveled to Livorno and Toulon, escorting three ships infected with an epidemic. Linois left Toulon in June of 1801 with four ships and 1600 troops, aiming for Cadiz. That July he engaged the British fleet in the harbor of Algésiras where he successfully took the ship HMS Hannibal and won the battle. However, only a week later another battle ensued at Algésiras and this battle the British won. Nevertheless, for his actions Linois was awarded a saber of honor.
With peace signed between the European powers, in 1802 Linois led a small squadron transporting troops to Saint-Domingue and he then returned to France. In 1803 he was sent to Île de France, also known as Mauritius, in the Indian Ocean with Captain General Decaen and the next year he fought the British in the South China Sea. Linois and his squadron wreaked havoc on the British merchants in the area but he continually refused to do battle with the British navy, keeping his distance when they were spotted. In 1806 he set out to return to France but was caught by a British squadron under Admiral Warren near Cape Vert. During the ensuing battle, Linois was wounded in the right leg and taken prisoner. Linois was transported to England but he was not exchanged during the remainder of Napoleon's rule. In 1810 he was recognized as a Count of the Empire, but he was only allowed to return to France after Napoleon's abdication in 1814. The restored Bourbons named Linois a Knight of Saint Louis and the governor of Guadeloupe.
Linois was still serving in Guadeloupe when Napoleon returned to power in France in 1815 for the Hundred Days. Upon learning of Napoleon's return, Linois rallied to him but before long Napoleon had abdicated again. As news traveled slowly, Linois held Guadeloupe until August 10 when he surrendered to the British. Returned to France, Linois was put on trial for insubordination, revolt, and disobedience due to his support of Napoleon during the Hundred Days. Nevertheless, he was acquitted of all charges in March of 1816 but he then retired from the navy the next month.

Bibliography
Updated January 2017
© Nathan D. Jensen