General Michel Ordener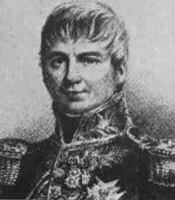 Cavalry general of the Imperial Guard who retired after being badly wounded at Austerlitz
---
Born: September 2, 1755

Place of Birth: L'Hôpital, Moselle, France

Died: August 30, 1811

Place of Death: Compiègne, France

Arc de Triomphe: ORDENER on the west pillar
Pronunciation:
A career cavalry soldier, Michel Ordener began his military service in 1773 when he enlisted in the regiment of dragoons of Condé. Twelve years later he transferred to the chasseurs of Franche-Comté. After the onset of the Revolution, in January of 1792 Ordener was commissioned as a sous-lieutenant in the 10th Chasseurs à Cheval. Successive promotions followed, for later in 1792 he was promoted to lieutenant, in 1793 he was promoted to capitaine, and in 1794 he was promoted to chef d'escadrons. Throughout the years 1792 through 1795 Ordener had served in the Armies of the Rhine and the Moselle and then in 1796 he joined the Army of Italy. With the Army of Italy he served at the Battle of Lodi in May. That September he was promoted to chef de brigade of the 10th Cavalry.
In 1799 Ordener began serving in the Army of Switzerland. In a fierce fight that August, he became legendary when he was wounded twelve times, surviving the action with eight saber wounds, three wounds from musket shots, and one wound from an artillery round. Somehow still fit for duty, the next month he was serving under General Soult and he took part in the crossing of the Linth. In 1800 Ordener joined the Army of the Rhine where he served under Leclerc and fought at Landshut in June. A month later he was given the honor of commanding the Grenadiers à Cheval of the Consular Guard.
During the years of peace that followed, Ordener continued to command the Grenadiers à Cheval in the Consular Guard. He was promoted to général de brigade in 1803 and then in 1804 he was tasked to arrest the Duke of Enghien on suspicion of royalist plots against Napoleon. Crossing the border of Baden with cavalry, Ordener seized the Duke of Enghien and brought him back to Strasbourg for trial. Later that year Ordener was made a Commander of the Legion of Honor and he served in the camp of Boulogne.
As the Grande Armée formed in 1805 to fight the Third Coalition, Ordener was given command of the cavalry of the Imperial Guard of the Grande Armée. He took part in the campaign that year that culminated in the Battle of Austerlitz. Fighting furiously at Austerlitz, Ordener was badly wounded. Within a few weeks he was promoted to général de division in recognition of his services. However, his wounds were catching up to him, and he retired from military life and became a senator. In later years Ordener became a Count of Empire, an Equerry for Empress Josephine's horses, and governor of the palace of Compiègne.

Bibliography
Related Pages:
Updated March 2020
© Nathan D. Jensen