General Jean-Baptiste-Dominique Rusca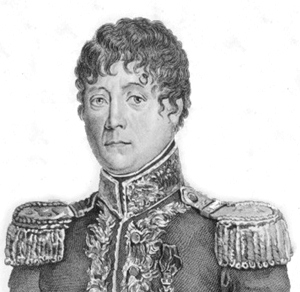 General who served frequently in Italy and was killed at Soissons
---
Born: November 27, 1759

Place of Birth: La Briga, Alpes-Maritimes, France

Died: February 14, 1814

Cause of Death: Killed in action

Place of Death: Soissons, France

Arc de Triomphe: RUSCA on the south pillar
A practitioner of medicine before the Revolution, Jean-Baptiste-Dominique Rusca was working in the hospitals of Monaco before he was banished from the area due to his Revolutionary ideals. Eventually in 1793 he found his way to the Army of Italy where he was commissioned as a chef de bataillon and given the task of overseeing the health of the troops. Rusca served at the Siege of Toulon that year and the following year he joined Masséna's division and served at Saorgio. By this time he was no longer performing medical duties, instead leading troops into combat. In 1795 Rusca was serving in Augereau's division in the Army of the Eastern Pyrenees and that June he was promoted to chef de brigade, fought at Crespia, and then fought at the Battle of the Fluvia.
Once peace was concluded with Spain, Rusca followed Augereau to the Army of Italy and in November he fought at Loano and was promoted to général de brigade. The following March, as a young General Bonaparte was soon to arrive to command the Army of Italy, Rusca continued to serve on Augereau's staff and became one of his brigade commanders. The next month he served at Montenotte, seized the heights of San-Giovanni, and then fought at Dego and Ceva before he was named commander of Mondovi. Continuing to fight in the whirlwind campaign, that May Rusca served at Lodi and later he was sent to Salo. In June he joined Sauret's division and then at the end of July he was badly wounded by two shots to the left thigh at Salo.
Rusca returned to the army in October, taking command at Reggio, Modène, and Bologne. He continued to command various places in Italy until March of 1797 when he joined Victor's division. In 1798 Rusca served with the Army of Rome and that December he won at Monte Pagano. The next month he served in the attack on Naples and then in February of 1799 he received a promotion to général de division. Rusca remained in Italy and in June he fought at the Trebbia where he was wounded by two shots to the left leg and taken prisoner.
Once returned to France, General Rusca was put on non-activity until December of 1801 when he was named commander of the island of Elba. In 1804 he was named a Commander of the Legion of Honor, and in 1806 Joseph Bonaparte, now King of Naples, complained to Napoleon about Rusca.
Rusca returned to an active command in March of 1809 when he was sent to the Army of Italy to command a division. Serving against the Austrians in the Tyrol, that May he seized Trente and then in June he won at Klagenfurt. After the campaign was concluded, Rusca was available for further commands but not actively employed. In 1811 he was named a Baron of the Empire.
General Rusca finally returned to an active command in January of 1814 for the defense of France. Taking command at Soissons, he was defending that city in February when he was killed.

Bibliography
Updated May 2015
© Nathan D. Jensen