General Filippo Severoli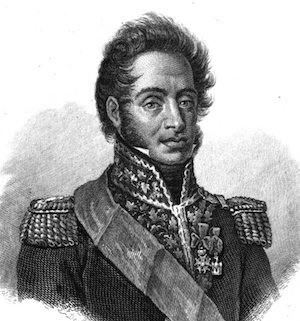 Italian general who served in Italy and Spain for many years
---
Born: 1767

Place of Birth: Faenza, Italy

Died: October 6, 1822

Place of Death: Fusignano, Italy

Arc de Triomphe: SEVEROLI on the west pillar
Pronunciation:
Joining the troops of the Cisalpine Republic formed in 1797, Filippo Severoli first saw combat at Toirane and La Pietra near Loano where he was wounded. In 1798 he was appointed a colonel and then at the end of 1799 he was promoted to général de brigade, commanding the 1st Brigade of Cisalpine troops. In 1800 Severoli participated in the campaign against Austria in Italy.
In 1805 Severoli was appointed commander of Milan and then in 1806 he commanded Italian troops that took part in the campaign against Naples. Afterwards he returned to Milan and then in 1807 he joined the Grande Armée to serve in Germany. That year he was also promoted to général de division. By 1809 Severoli had returned to Italy to take part in the campaign against Austria. He distinguished himself at the Battle of Raab during the campaign.
In 1810 Eugene de Beauharnais, Napoleon's stepson and Viceroy of Italy, recommended that Severoli replace General Pino in commanding the Italian troops sent to Catalonia. Severoli took the command and in May of that year he laid siege to Hostalric and he successfully took the fort from behind. He was named a Count of the Empire and later in the year he requested a leave to return to Italy due to his health. In 1811 he was serving in the Army of Aragon under Suchet. In 1812 Severoli contributed to the action of Valencia and laid siege to Peniscola.
In 1814 Severoli and his men returned to Italy where Viceroy Eugene ordered him to defend Piacenza and take Parma. Serving under General Grenier, he and his men successfully defeated the Austrians holding Parma and took the city. The next day Severoli entered Reggio Emilia but then on March 7th he was attacked by the Neapolitan troops of Marshal Murat, King of Naples, who had defected to the Allies in the hopes of retaining his kingdom. At the same time Severoli had to hold off the Austrians who were anxious to retake the city. During the battle Severoli was hit in the leg by a cannonball and he had to gave up command of his division. Murat successfully took Reggio Emilia but then stopped the fighting.
After the the abdication of Napoleon and the end of the French Empire, the Austrians retook northern Italy. Severoli was admitted into the Austrian army with the rank of field marshal lieutenant and he served as governor of Piacenza for a time. He retired in 1822.
Note: Severoli's exact birth date is unknown. If you find a reliable source that has his birthdate, please let me (the author aka Nathan D. Jensen) know.

Bibliography
External Links:
Updated February 2022
© Nathan D. Jensen